Former workers at Rehab Enterprises at Raheen in Limerick, who were made redundant when the facility closed in 2021, have protested at the group's offices in the city calling for outstanding redundancy payments, due under a Labour Court recommendation, to be paid.
Many of the 38 workers, who live with a disability, and others who have particular occupational needs, have worked with the company for over 25 years.
They lost their jobs two years ago when the facility at Raheen industrial estate in Limerick closed.
Workers received their statutory redundancy entitlements plus two weeks' pay capped at a year's salary, instead of the six weeks' pay per year of service under their collective agreements, which the Rehab group contended it was unable to pay.
Former Rehab workers protest over redundancy payments https://t.co/umMLstbobr worker Gerry Spillane pic.twitter.com/BuSJcymHGk

— Cathy Halloran (@HalloranCathy) March 21, 2023
Their union SIPTU brought the matter to the Labour Court which found in favour of the workers, and that their collective agreements should be honoured.
Greg Ennis, SIPTU Divisional organiser, said they are calling on the Rehab Group to pay these workers their due entitlement and honour their agreements, now underpinned by a Labour Court decision.
"This is an aging vulnerable workforce, and many will not work again. The Rehab Group received €90 million in State supports last year, and yet they are leaving these workers €1 million short on their redundancy payments. For these individuals their work was their life. We're calling on Rehab to respect our agreements and pay the workers what they are owed."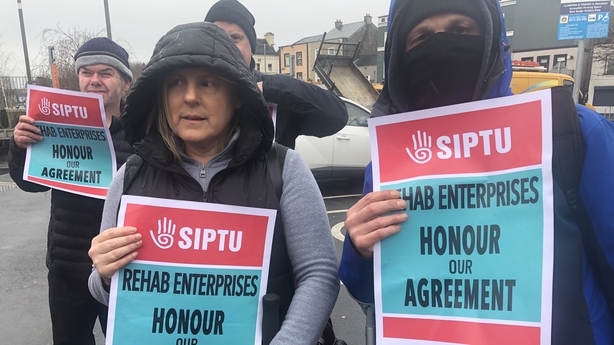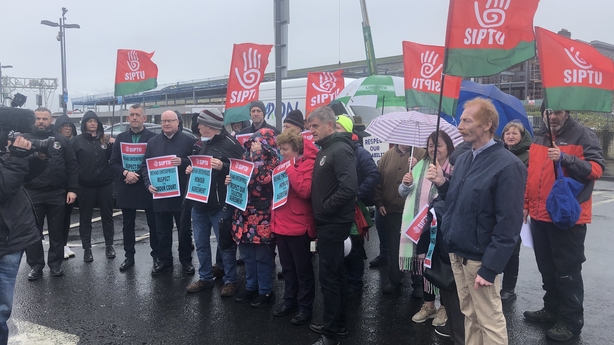 Gerry Spillane, who worked for the group at Raheen for 40 years, said the protest should not be happening. "I'm calling on the board of the Rehab Group to stop humming and hawing and pay up please, as we're now waiting for two years."
In a statement, the Rehab Group said that Rehab Enterprises Ltd has been under significant financial pressure for many years, and the Labour Court recommendation would cost the group an additional €1.5 million which is highly challenging for a business under that pressure.
They say they have worked with former employees since the closure of Raheen to ensure a managed transition to alternative work and training options, and have assisted others in accessing community services and other social supports as required.
Nine former employees have been supported into new employment, and three others have been supported to find places in HSE day services, while 16 others are involved in other support services.