Mica is not the primary cause of defective concrete blocks found in thousands of homes in Co Donegal and a number of other counties, according to research published in an international journal for the building and construction industry.
Carried out by international experts who visited Donegal last November, the peer-reviewed article, 'The "mica crisis" in Donegal, Ireland – a case of internal sulfate attack?' said the mineral pyrrhotite present in the aggregate found in defective blocks in Donegal was the cause of the problem.
The article in the journal, Cement and Concrete Research, was published by Dr Andreas Leemann, Professor Barbara Lothenbach, Dr Beat Münch of Empa's Laboratory for Concrete & Asphalt, Switzerland, Professor Paul Dunlop, School of Geography and Environmental Sciences, Ulster University and Thomas Campbell, TA Group.
The experts said there was clear scientific evidence that defective concrete blocks in Donegal were failing as a result of internal sulfate attack directly connected to the presence of highly unstable pyrrhotite and not the mica freeze-thaw process as was proposed by a Government report published in 2017.
The research found the content of sulfur present as sulfides in the blocks was well above the limit value of European standards.
It examined the concrete blocks of four affected homes by microstructural and chemical analysis combined with thermodynamic modelling and was compared with the data collected by chartered engineers on almost one hundred damaged homes in Donegal.
The authors said that identifying the damage mechanism in the Irish concrete blocks was extremely important for the success of the entire remediation scheme.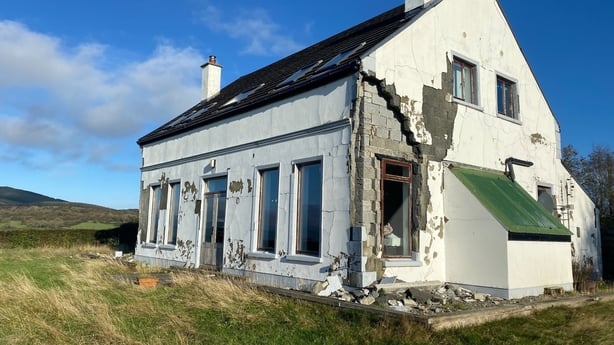 However, they said that "despite its occurrence and the known risks, pyrrhotite is currently not taken into consideration when deciding on one of the five remediation options available within I.S. 465 that range from removing the outer leaf, through to full demolition and rebuild.
"All but the latter option means that existing blockwork containing pyrrhotite is preserved and could potentially fail in the future."
Prof Paul Dunlop - himself an affected homeowner - said "this new scientific evidence is important for Government officials and policy makers who are dealing with the defective concrete block crisis to ensure science-based solutions are at the heart of Government solutions for affected homeowners.
"Its publications is also timely for the National Standards Authority of Ireland, who have been calling for rigorous, independently peer reviewed scientific data for their ongoing review of I.S. 465.
"In addition, it provides scientific information for the National Building Control and Market Surveillance Office who are tasked with market surveillance about the obvious risks for concrete failure when aggregates containing pyrrhotite are used and reinforces the need for robust surveillance of the extraction industry and concrete manufacturers."
In a statement, the Department of Housing said that a number of reviews are ongoing.
It said the Defective Concrete Blocks Grant Scheme may be reviewed after the reviews are concluded - if required - but the imminent introduction of the enhanced remediation scheme will not be paused in advance.