The jury at an inquest into the death of a 29-year-old man who took his own life six days after he was committed to Cork Prison has recommended that an independent review of all medical care at the prison be carried out.
The family of Andrew Gearns, from Model Farm Road in Cork, believe his life could have been saved with different care and intervention.
Mr Gearns was a father of two, and much-loved by his family.
He was also a heroin addict and was described by his family as being vulnerable, and at a low ebb when he was committed to Cork Prison on 22 September 2020.
In line with Covid-19 protocols in the prison at the time, Mr Gearns was placed in a cell on his own for the next six days. However, despite a previous suicide attempt, he was not placed in a special observation unit.
A nurse who assessed him said she did not regard him as being at risk. She said he had twice "guaranteed" her he would not self-harm.
In the days after his committal, Mr Gearns' family became more concerned about his welfare.
On 28 September, the day he was found unresponsive in his cell, his mother Aideen rang the prison after Andrew had called her in a delusional state.
He told her he had been stabbed in the abdomen and his face had been slashed when he was in Blackpool in the city the night before.
Mr Gearns had no injuries, and he had never left the prison.
A nurse at the prison told Ms Gearns they would keep a closer eye on her son.
Mr Gearns was checked 13 times by prison staff over the next four or five hours.
However, Senior Counsel for the Gearns' family, Elizabeth O'Connell, claimed some of those checks lasted no longer than two seconds.
This afternoon, after an inquest that lasted three days, the jury backed a call by the family for an independent review of all medical care at the prison.
Mr Gearns' family welcomed the jury's recommendations.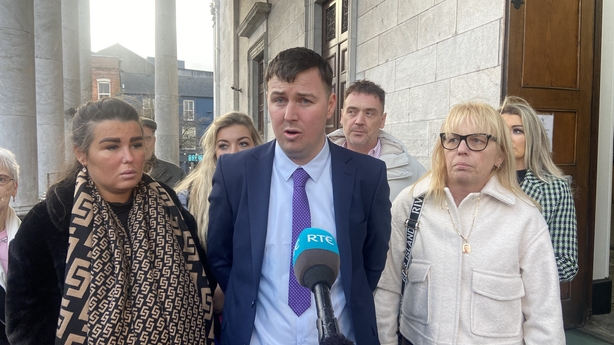 "We can grieve Andrew now and mourn his loss," his brother Evan told RTÉ News.
"It's settled now. It took a long time. I had to fight to get this inquest, with the shortage of staff in the coroner's office [and] the shortage of staff which we now know about in the Inspector of Prisons. They are issues which need to be dealt with straight away."
The jury returned a verdict of suicide and made a number of other recommendations.
Coroner Philip Comyn said he will pass the recommendations to the relevant authorities.