A portrait of Vicky Phelan, the patient rights advocate and campaigner, has been unveiled at University College Cork.
The triptych portrait, painted by Irish artist Vincent Devine, is currently on view in UCC's library until 17 February, as a part of a national campaign to honour Ms Phelan's legacy and to educate people about cervical cancer.
At the unveiling event, artist Vincent Devine and portrait owner and Ms Phelan's lifelong friend David Brennan shared insights into the collaboration with her which led to the creation of the triptych portrait.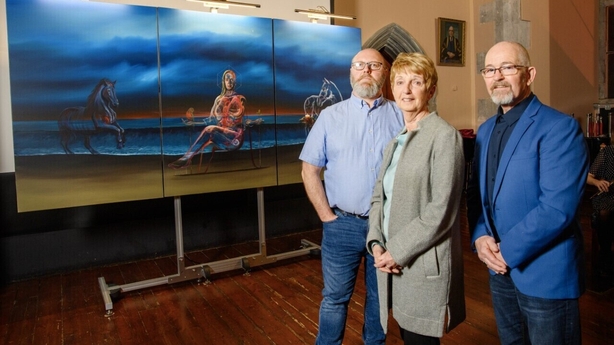 The portrait tells the story of Ms Phelan's life in three panels. She collaborated with the artist throughout the process and they both agreed the painting should be situated in Doonbeg, Co Clare, a location she described as her favourite place on earth.
When it was first unveiled, Ms Phelan said the painting "meant the world" and is something that will "live on forever".
The event featured a discussion on cervical cancer awareness, campaigning, and women's health advocacy.
It was the first public awareness raising event since Ms Phelan's death in November 2022.