Those looking for a new challenge for 2023 might consider walking one of Ireland's ancient pilgrim paths.
Pilgrimage is as old as history and is defined as a meaningful journey to a place of spiritual significance.
One of the best known Irish pilgrim walks is St Kevin' Way.
The 30k route runs from either Hollywood or Valleymount in Co Wicklow to the Wicklow Gap.
It was first walked around the fifth and sixth centuries.
"In the medieval period pilgrimage was extremely dangerous," John G O'Dwyer, an expert on Ireland's pilgrim paths, said.
"You were going into unknown lands that weren't mapped. Huge numbers of people would have died on pilgrimage, so you really have to admire the fortitude of those early pilgrims," he added.
St Kevin belonged to an early Christian monastery near modern-day Tallaght, west of Dublin, and walked the Wicklow mountain route in search of solitude.
"He travelled across the Wicklow Gap and eventually dropped down into a place called Glendalough – wild, remote and uninhabited, and he lived there for a while in a cave," Mr O'Dwyer said.
But St Kevin's plan to get away from it all backfired.
Hundreds followed him and the monastic city at Glendalough was founded.
"We are walking on exactly the stones that would have been walked on by St Kevin and the early pilgrims, Mr O Dwyer said, pointing to stones, mountaintop snow and grass under foot.
We need your consent to load this rte-player contentWe use rte-player to manage extra content that can set cookies on your device and collect data about your activity. Please review their details and accept them to load the content.Manage Preferences
When did the pilgrimages begin?
"People would have come here to study after the Roman Empire collapsed and there was very little study available in Europe. They came to Glendalough and Clonmacnoise," Mr O'Dwyer said.
He has walked and studied pilgrim paths in Europe and Ireland.
"Later you had the pilgrim period. What [pilgrims] were looking for was grace. It died away during the Reformation period and now we are having a massive resurgence," he told RTÉ's This Week programme.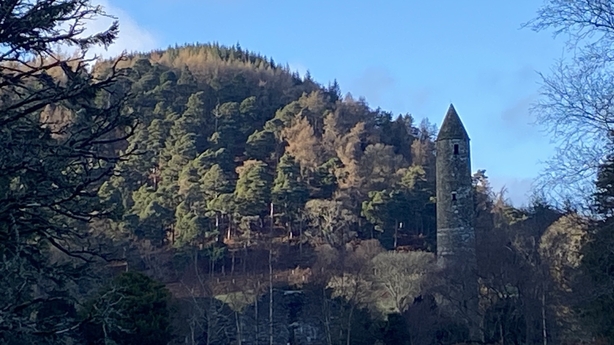 Eleanor Sutherland is among a group of Wicklow locals, who along with The Heritage Council, worked on unveiling St Kevin's Way to walkers over decades ago.
She is still finding new bits of the trail.
"I've had the amazing experience of finding parts of the route that maybe haven't been walked in how long, and putting my footsteps on them. There are stones along the side that someone put there to mark the edge," she said.
Why did early pilgrims journey to Wicklow?
"Medieval pilgrims came here from across Ireland and Europe to grain graces, or to let go of something," Ms Sutherland said.
Today's pilgrims are not always looking for forgiveness or graces, but they do want to gain something from the journey.
Ms Sutherland remarks that a pilgrim path connects the walker to the natural world around them.
"There's a sort of respect in a person when they take on a pilgrimage. They're looking at their inner landscape and the outer landscape, and also the connection to our earth mother," she said.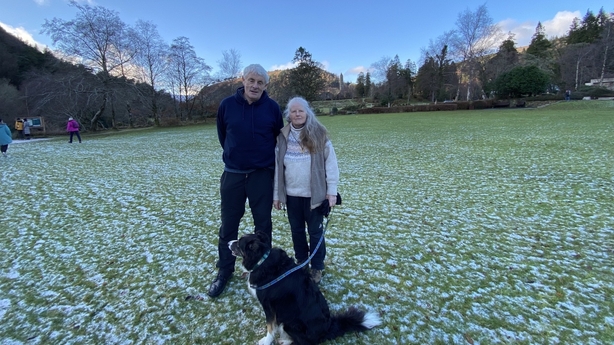 "What you often find is mental healing is what people are looking for," Mr O'Dwyer said.
"In common with the medieval period you take time out to rebuild and reset and get off the treadmill," he added.
"When you become a pilgrim you go into a different space. The concerns of the world are put aside for a time," he said.
St Kevin's Way is one of several well-established pilgrim paths across Ireland.
Others include St Finbarr's in Cork, Tóchar Phádraig which goes up to Croagh Patrick, Cosáin na Naomh associated with St Brendan in Kerry, Cnoc na dTobar pilgrim mountain in Kerry and St Declan's Way in Waterford/Tipperary.
Walkers have tied ribbons, scraps of material, and even old Covid-19 face masks to the branches of a votive tree along St Kevin's route where, just as in medieval times, this was often done for those who are sick.
Reasons for modern pilgrimage
According to Mr O'Dwyer there are as many reasons for pilgrimage today as there are pilgrims.
"Generally, they don't come to curry favour with the Lord and gain graces. You are talking about the journey. But in common with medieval pilgrims, everyone expects to come away with something," he said.
Physical discomfort was also part of the early pilgrims journey's – something Mr O'Dwyer said has been lost as modern pilgrims who travel to Marian shrines across Europe in the comfort of planes, buses or cars.
"This is a going back further to a time when pilgrimages were tough," he said of the Irish paths currently being resurrected.
But he warned that it's wise to be prepared before setting off in the footsteps of St Brendan, Declan or Kevin.
"At this time of year, you want to really be prepared, hiking boots, warm drinks, phone charged up. Have your map, know where are going and what time you are expected back," Mr O' Dwyer said.
St Kevin's Way can be approached from either Valleymount or Hollywood in Co Wicklow.
These two paths come together at Ballinagee bridge, before making the sweep down Glendalough.