Work is due to start on reopening the Foynes-Limerick rail line as a freight service as part of a €104 million upgrade, which could possibly see a passenger service also return to the 164-year-old rail line in the future.
Clearing of vegetation along the 42km track has already started, and major construction work on the line begins in the coming weeks which will see the old track removed, the installation of new rail track and sleepers, upgrading road infrastructure at level crossings, rehabilitating bridges and culverts and the renewal of lineside fencing.
The line itself - which serves Patrickswell, Adare, Askeaton and Foynes - originally opened in 1858 as a passenger line, but closed in 1963.
While freight services continued to 2001, the old line fell into disrepair and has remained inactive for over 20 years.
Today, over 42km of new rail track arrives at Foynes port as part of the infrastructure to begin work on the project.
It is anticipated it will take two years to complete this first phase, estimated to cost €64m.
Phase Two will see the provision of a signalling system for the route, CCTV level crossings, trains communications systems and track connections and upgrades at Limerick and Foynes yard, work due to be completed by 2025.
Iarnród Éireann has said this significant upgrade of the line will facilitate rail freight services but will not preclude the possibility of passenger services being reintroduced on the line in the future but this would require further infrastructure upgrades and funding.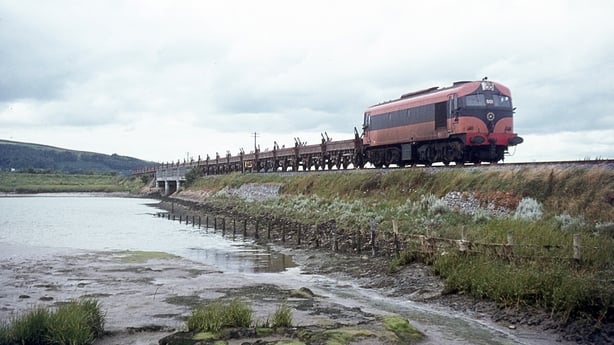 It also aligns with the Shannon Foynes Port company's recently-launched 2041 Masterplan, which aims to transform the port into a hub for the production of giant ocean-based green wind turbines off the Shannon estuary, and as a location for the production and transport of green energies like hydrogen and ammonia.
A good rail service, serving business and logistics at the port is an essential part of that plan.
There have been a number of calls for this rail line to reopen to facilitate stronger freight transport, using interconnected rail and ship services for the movement of goods, rather than roads satisfying a number of EU, national and regional objectives around transport and climate objectives.
There is also the Ryder Cup coming to Adare in 2027, and the provision of a passenger rail service using this line has been called for as a very useful transport link as more people choose to use public rail services instead of car transport.
Iarnród Éireann Chief Executive Jim Meade said: "Our freight services are about creating connections and giving greater opportunity for businesses to switch from road freight to more sustainable rail freight.
"I am certain that upon reopening this line, working with our colleagues at Shannon Foynes Port company we will deliver a reliable, frequent and most importantly sustainable logistics option for many companies that currently and in the future, will use the port of Foynes."
The reopening of this section of rail line is part of a much wider ambitious Limerick rail network planned for the next decade which will see new suburban stations at Moyross, Raheen, Dooradoyle, and Ballysimon to facilitate the movement of workers to industrial estates at these locations.