A cross-community initiative has begun in Nenagh, Co Tipperary to challenge unacceptable behaviour towards women and young girls in social settings and online.
Businesses, schools, sports clubs and workplaces across the town and the surrounding area have all signed up for the "Choose Respect" campaign.
Posters are going up across shops and business and places of work to hammer home the message: "Choose Respect—make a positive change in your community".
They were motivated by news stories across the country about how women have been harassed, catcalled, intimidated, groped and killed violently.
Local residents began to get together and ask what they could do collectively about it.
Marney O'Regan is one of the organisers behind the campaign and he said they were appalled by the violent murder last January of Ashling Murphy near her home in Tullamore, Co Offaly.
He said: "A number of us got together and asked what we could do to bring about change in our own community about the unacceptable behaviour and harassment of women and young girls, behaviour which seems to have become normalised and which so many women and girls have been forced to deal with on a daily basis.
"Whether its comments on their mode of dress, how they look, sexual jokes and harassment and violence.
In particular, they also wanted to challenge this type of behaviour which is conducted daily on mobile phones, behaviour which is then shared and the subject of further harassment.
They want to not only challenge the behaviour, but when they witness it they want to confront it and call it out and they wanted to make sure they have the skills to do so safely for everyone.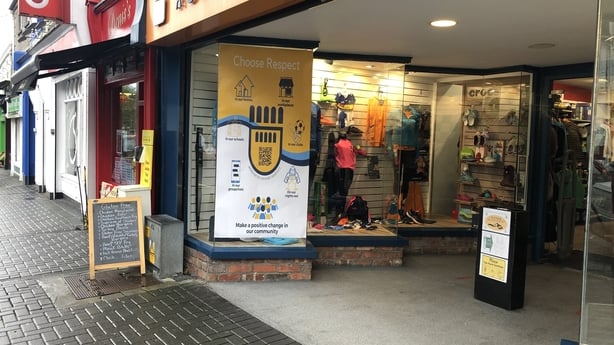 He said when they got together they found a huge appetite for change and a belief that if they worked together as a community, there could all support each other and nobody would be forced to work alone or be isolated in their abhorrence of this type of behaviour in the community.
They have put their posters up across the town, in shops, pubs, businesses and in schools, so that the campaign is very public.
It will be followed up with a social media campaign in the new year.
Businesswoman Noelle Morrissey, who is the owner of Easons in the town and an athletics sports coach has signed up to the campaign.
She said she has experienced this type of behaviour on the street, in social settings, where she has been shouted at and inappropriately touched, and been the subject of rude remarks.
"I'm strong enough to call this behaviour out and challenge it. But we want to make sure every girl and woman is able to do the same and with this campaign, they will be, and will be supported by everyone in the town," she said.
The campaign is also reaching out to young people in schools in the town who are taking part in the UCC-led "Bystander Intervention' campaign which is run across 50 schools in Ireland.
The campaign was started by Prof Louise Crowley.
Prof Crowley said: "The campaign is about recognising this type of sexual harassment and sexual violence in our community and empowering people to interrupt it and make a safe intervention. It's also about shattering the silence which surrounds this behaviour."
"People are frequently afraid to call it out, afraid to act alone, particularly young people. This programme empowers them to recognise the behaviour and to stage an intervention, to interrupt it and to know they have allies in doing so," she said.
Students from Nenagh College and St Josephs CBS have taken part in the programme as part of the wider respect campaign in the town.
They said they found it very beneficial to recognise this type of behaviour and have the skills to intervene and the support of friends and their peer group to do so.
Some of the girls in the programme said they had experienced catcalls, and other rude behaviour when they are out or been the subject of offensive comments online, and they believe the bystander programme and the wider campaign in the town will have a major impact.
Prof Crowley described the campaign in Nenagh as both inspirational and powerful.
"It shows that there has been a huge appetite for change, and that people who act on calling this type of behaviour out will be supported. It's a societal problem, it needs the whole of society to bring about cultural change in this area and the cross-community project in Nenagh shows that change is possible," she said.