Jugglers Cormac Mohally, Gabriel Rossi GonÇalves and Jimmy Bray from Cork's Circus Factory were among hundreds of artists performing for free on the streets of the city yesterday.
Circus Factory performed at the Coal Quay, before throwing open the doors of the factory on Centre Park Road for a behind-the-scenes look at how it trains circus performers.
Circus Factory is a non-profit organisation which promotes performance, participation and education in circus as an art form.
Elsewhere, there were culture bus tours on board the city's bus services, a night of music and spoken word at Cork City Library's new outdoor space The Carnegie Courtyard and a backstage tour of The Everyman theatre.
Cork Light Opera performed at Cork City Gaol while The Butter Exchange Band opened its rehearsal space at Dominick Street.
For children and teenagers, there was a rap, beats and songwriting workshop at the Kabin Studio in the city.
Guided tours and choral evensong were on offer at the beautiful St Fin Barre's Cathedral.
Cork's contemporary musicians also combined with some of the city's legendary artists at Cork City Hall.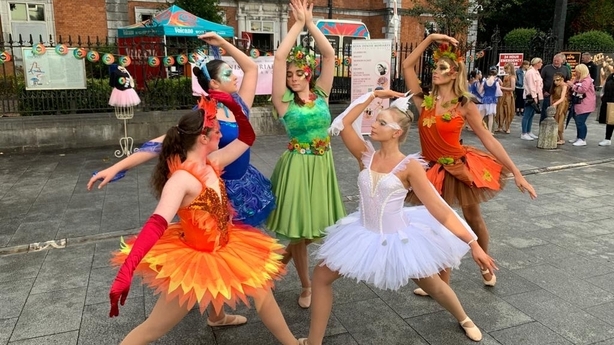 Joan Denise Moriarty School of Dance had 60 students on Emmet Place in Cork yesterday evening, performing a dance to spoken work and music about climate change and the four elements of water, earth, air and fire.
The students were aged from seven to 21.
They were divided into four groups, each representing one of the elements.
Each group wore custom-made costumes and headpieces to match their theme.
Another student played Mother Nature and each group had a senior dancer dressed in a tutu.
The whole piece ran for 16 minutes.
A full listing of the Culture Night events that took place in Cork yesterday is available at corkcity.ie/culturenight.
Additional reporting Sinéad Crowley