Parents in Co Louth held a protest at the Bus Éireann bus station in Dundalk today, after dozens of students in the Annagassan area were left without school bus passes.
The protesters say around 40 school children have not been given tickets.
The parents said many of these children would previously have travelled on the bus and their frustration has been compounded by reports that some of the buses are not full.
Helen Cosgrave said there have always been problems getting school tickets but this year is much worse.
"It's been made worse by the fact that it's a free for all...but the people who really rely on them year after year have been denied their tickets this year," she said.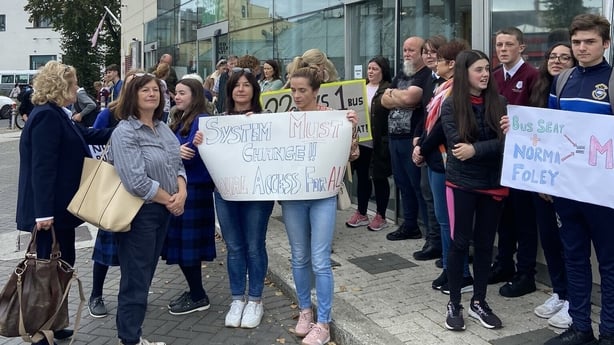 Martin McCreesh said he was very frustrated.
"We've had children on the bus for the last ten years...and this year we find ourselves with no seat on the bus. It's ten, twelve kilometres away, we're not going to be able to drive them in and out."
"It's very frustrating as a parent to see empty seats on a bus, not being used and we're driving cars in and out behind the bus...it just doesn't make sense, and we're calling on the Minister to urgently review the situation," he said.
Michael Wallace said his 13 year old son David, who has cerebral palsy now has to walk from his school to the bus station in Dundalk and pay for a bus home.
"They expect him to do this when there's a bus pulling off at the school going right practically to our doorstep...totally wrong," he said.
Cillian Burke is a student who has been using the school bus for the past four years. This year he was told he will not be getting a pass.
"They've said I'm not getting one, even though there are empty seats on the bus leaving Annagassan every morning," he said.
"My parents both work, they're not able to bring me here," he added.
Yesterday, the Minister for Education Norma Foley said she is in discussions to see if additional funding can be secured in the Budget to provide more pupils with free school transport.
Speaking on RTÉ's Prime Time, Minister Foley was responding to thousands of outstanding applications for school bus places for children who do not meet Department of Education criteria for school transport and are reliant on concessionary tickets.