Sligo native Ceola McGowan has become the women's World Axe Throwing Champion in Canada overnight.
The 31-year-old has spent the past year training for the World Double-Bit Axe Throwing Championships with her club, the Wicklow Axe Throwers.
She hit her target of becoming world champion before the age of 35 with a thrilling finals win in Nova Scotia over competitors from Sweden, Germany, and Estonia.
She said: "Honestly, there are moments where it hasn't quite sunk in yet and then there are fragments of clarity where I realise, 'Oh my God, I've actually done it!'
"I wanted this so bad and the volume of my national and international axefam (axe family) that came up to me afterwards saying that I deserved it shows me that not only do they all believe in me but that they could see how badly I wanted it!"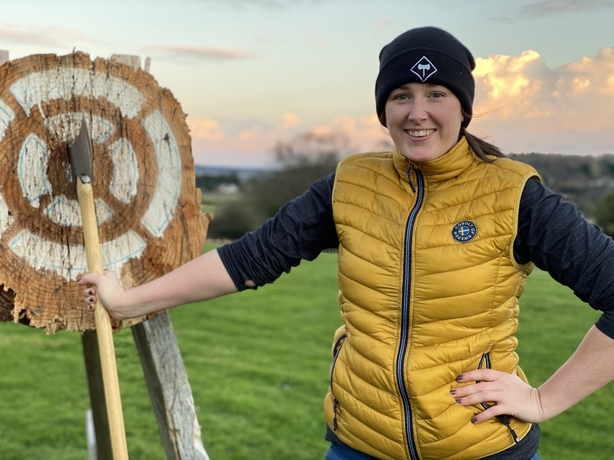 Ceola threw her first axe in 2018 and was hooked from her first bullseye.
RTÉ News interviewed Ceola in December, when she was seeking sponsorship to attend the championships in Canada.
She said: "It's the power of picking up an axe and feeling like a badass. You look at this big thing that has got four sharp points on it, two sharp blades, and I'm going to fling this over my head 20 feet down to a target that's got a two-inch diameter bullseye and I'm going to get that.
"It's very zen. It's very meditative. You're inhaling, you're exhaling, you're throwing, and that kind of 'thunk' noise when the axe hits the target. It's just the best feeling. You've had a bad day, throw an axe - thunk - it's better."
"I want to become the world champion before I'm 35. It gives me a little window. The world championships are only held every two years so if I don't get it this time, I've got another one to get it."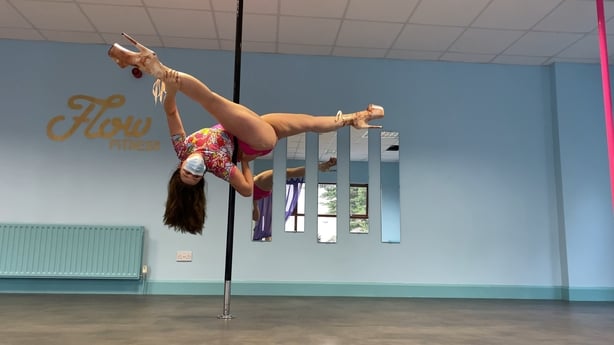 Not only is Ceola a champion axe throwing, she is also a proficient pole dancer.
She credits her fitness and core strength to the pole dancing classes she takes in Bray.
This weekend's event in Nova Scotia was initially scheduled for 2021 but due to COVID restrictions the decision was made to delay the competition by one year.
You can watch the original interview with Ceola here:
We need your consent to load this comcast-player contentWe use comcast-player to manage extra content that can set cookies on your device and collect data about your activity. Please review their details and accept them to load the content.Manage Preferences