Ukrainian children have been honing their digital skills at a coding camp in Dublin, with the Irish Red Cross hoping to provide similar workshops to more Ukrainian children around the country.
Sixty children, aged between eight and 15 years old, who have recently arrived to Ireland have been taking part in STEM-related activities including coding their own retro arcade game.
The Irish Red Cross arranged the weeklong camp with Microsoft Ireland.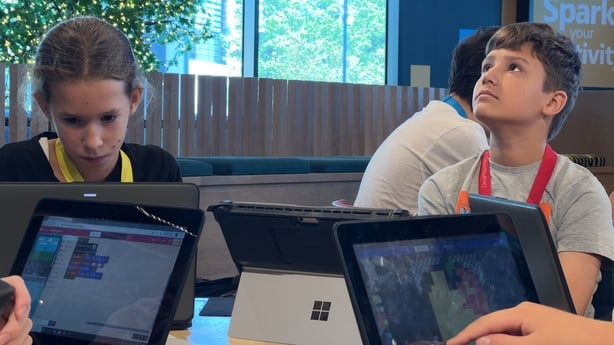 Charlie Lamson, Head of Fundraising with the Irish Red Cross, said: "During the initial four months of the war, we were very much focused on being reactive to the crisis as it arrived. As we are moving forward now, we are really looking to medium and long term support. And key areas within that are going to be education, livelihoods, and really getting people integrated into Ireland.
"Given everything that the families have been through and the stark reality that they are facing, I think it's a wonderful opportunity to come in and just leave that behind for a while. And have a great time".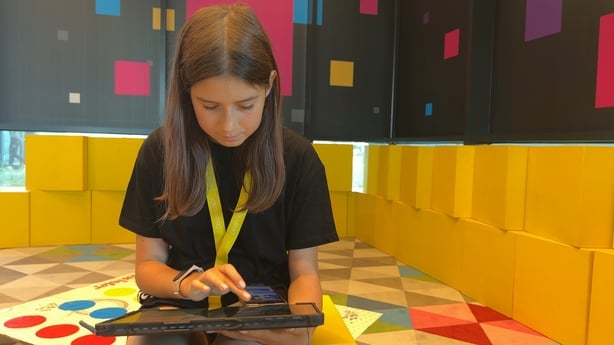 Veronika, who is 12 and originally from Kyiv, attended the camp. For her, it was a chance to get to code again.
She said: "Before the war in Ukraine, I won a competition coding robots with my friend Maria. At the camp, I coded, played games and just had fun. I am doing a game about Harry Potter. Hermione is my favourite character. In the game, she has to eat books for energy and fight Lord Voldemort."
During the week, Mykhailo, aged 15, created an obstacle course for a robotic sphere that he controls via a laptop.
He said: "Being here, it's maybe the most inspiring experience I have had for the last three months. It was really cool".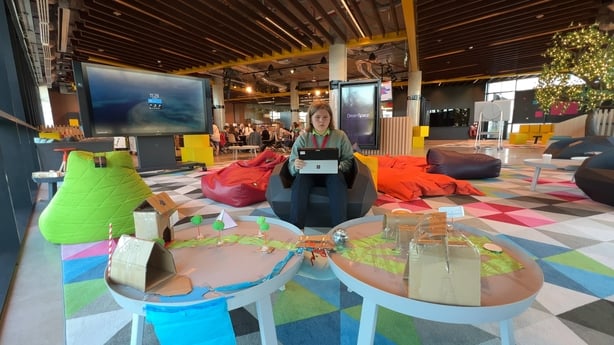 The weeklong camp was run by Microsoft Dream Space with the workshops delivered in both English and Ukrainian.
Amanda Jolliffe, Microsoft Dream Space lead, said: "Dream Space is our STEM and digital skills venue at Microsoft Ireland. We work with young people here every single day to expose them to STEM - science, technology, engineering, and math - as well as digital skills and where technology is going.
"I think all of us are trying to see how we can support organisations like the Red Cross and all the young people arriving to Ireland from Ukraine. So for us, it was about how can we help, and obviously, our skillset lies in working with young people, giving them a fun exposure to STEM and digital skills. But really importantly, to have fun and make friends while learning new things."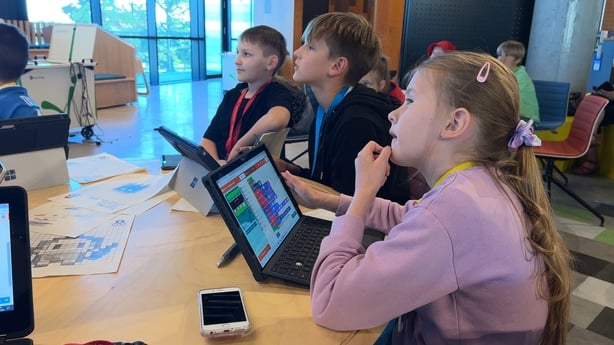 Based on the success of this initial camp, the Irish Red Cross is hoping to provide the workshops to Ukrainian children around the country.
For coding enthusiast Veronika, she does aspire to be a professional coder one day and would consider working for Microsoft.
She said: "Maybe. You know, there's free Sprite and Coke so why not?!"