There was no sitting back or celebrating for the entire crew at The Showgrounds after Sligo Rovers' big win last night against Motherwell.
The team was back training, the backroom staff and volunteers were working out the logistics of the next round against Viking Stavanger of Norway and the very popular summer soccer camp was in full flow.
Many of the youngsters at the camp had been at last night's game and were revelling in the victory and were thrilled to have players sign their boots, their jerseys, and pretty much anything they had to hand.
Trio Líla Kelly, Michael Kelly and Luke Foley went for signatures on their boots and described last night as like a dream come true, with The Showgrounds buzzing and a fantastic game of soccer.
Manager John Russell said they had witnessed a bit of history and he was very proud of every member of the team - they had been handed a big challenge, he said, and they delivered.
Only two months in the job, it was a great boost for Russell, who says he has a hungry group of players eager for the next round.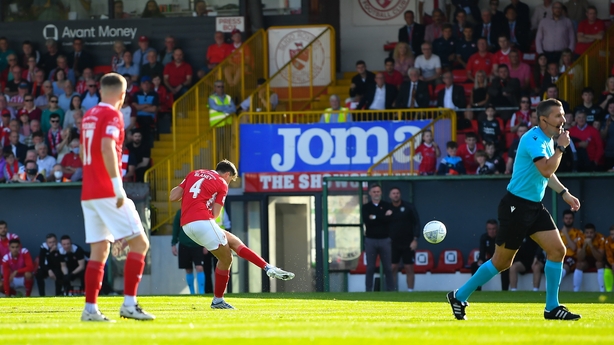 The man who scored the first goal against Motherwell last night, Shane Blaney from Donegal, was delighted to score so early in the game and felt it had been settling for the team.
He was looking forward now to the game in Norway against Viking and the home leg back in The Showgrounds.
Getting the derogation from UEFA to play the home game in Sligo rather than a bigger stadium like Tallaght was hugely welcomed by all involved with Rovers.
Shane Blaney is hoping they can have a repeat of last night's fantastic atmosphere at The Showgrounds - it's class he said, and there are loads of exciting times ahead.
Rovers' victory against Motherwell, which takes them to the next leg of the Europa Conference League, is not just a great achievement, it brings with it a nice financial boost for the club.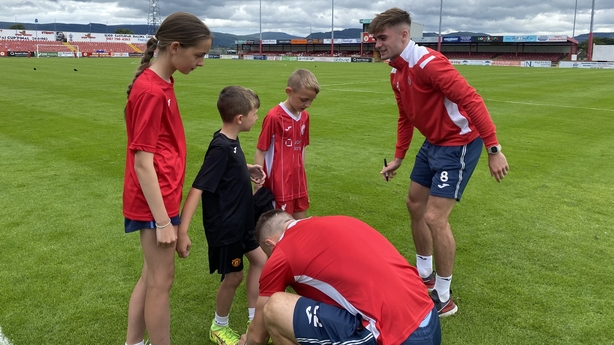 Treasurer David Rowe confirmed that it will mean €850,000 for the club, but about 25% of that will go towards costs including "well-deserved bonuses for players and manager, travel to Norway and hosting the game in Sligo".
"We are not a millionaire-owned club but a community-led one," he said, and supporters have always dug deep but this money will now help the club hugely in many ways including developing the grounds and soccer academy.
While the team focuses on training, the job of the back-room team now is to plan the trip to Norway and the return leg in The Showgrounds.
Fans are working on their logistics too - Amanda Banks was collecting her son Michael from the camp this afternoon and said her husband had been on the internet already trying to figure out a way to the Norwegian game - Michael was hoping he'd be bringing him along too!