Ukrainian rowers are set to take on local crews in this summer's circuit of regattas in south Kerry.
The town of Cahersiveen is hosting up to 320 refugees and Sive Rowing Club is encouraging the new residents to take up oars in an effort to help them settle in to the area.
So far, up to 20 Ukrainians have taken up the invitation. The refugees are currently being trained in the four-oar rowing boat category, but it is hoped that they will eventually gain enough experience to compete in the larger seine boat, the traditional boat of South Kerry.
The Ukrainians are being coached by local club members for the last month, attending training sessions three times a week.
Club stalwart Pádraig O'Shea says it is an ideal way to connect the refugees with the local community.
"We know where they have come from and we know what our own people have suffered in the past. We were an oppressed people too," he said.
"My parents were born into an oppressed state and these people are oppressed too. Their situation is not easy. The rowing has to be good for their health and it is good for the community.
"They are part of us now. I mean, we have a major problem here in terms of depopulation, so they are a big bonus to us now as a people. So why not be involved in what we're at," he added.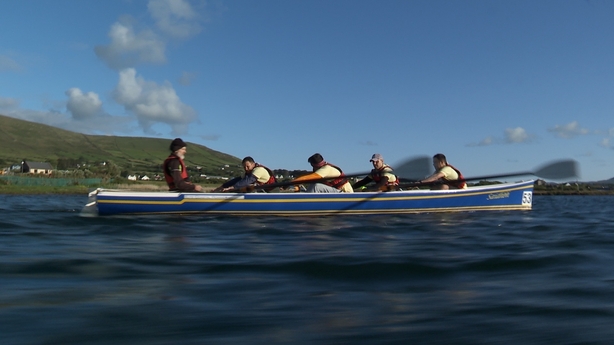 Ukrainians have formed both men's and women's crews and a number of Ukrainian children are involved with the underage crews. Olga from Kyiv says it is a fantastic way to get to know the local people.
"This is such a small town in the middle of nowhere. Since we arrived the people have been so welcoming. They are inviting us all the time into their everyday life. It's really touching and it helps people settle in," she said.
While joining the club has helped the refugees meet the locals, the rowing itself has brought healing. Natalia from Kyiv says that many of the refugees carry with them the trauma of war and the rowing has helped improve mental health.
---
---
"Many of us are in shock. It has been a very difficult time. The rhythm of the rowing and the physical exercise helps clean our mind. We have made very good friends here and that helps," she said.
"They are very kind people here in Cahersiveen. We felt it from the first day when we came here. They gave us clothes and food and toys for our children.
"We cried a lot when we felt their warm hugs," she added.
We need your consent to load this rte-player contentWe use rte-player to manage extra content that can set cookies on your device and collect data about your activity. Please review their details and accept them to load the content.Manage Preferences
Club member Tadhg Ó Briain says the initiative has also benefited the local people, generating an elevated sense of community spirit in the town.
"I mean they are going through a hard time and anything we could do to make their life better, even if it's only in a small way, sure why not," he said.
"And it's of great benefit to the club because the more the merrier in any club. It doesn't matter what nationality they are."
Coincidentally, the Sive Rowing club colours are the same as the Ukranian national flag and it is proving a motivating factor for the new members.
Despite their lack of rowing experience, the Ukrainians have made rapid progress and there are now plans to enter refugee crews in the Sneem Regatta at the end of the month. Mr O'Shea believes they will test the mettle of some of the local crews.
"They're mighty. They're full of enthusiasm and they're hardy out," he said.
"Old-style people with no airs and graces, solid people. They've great patience, they're willing to learn and they're strong."