A new specialist retrofitting centre of excellence has been opened in Limerick to help meet the skills shortage needed for the green energy construction projects of the future.
The centre is expected to upskill 1,500 trainees a year including those who are already employed in the construction sector who may need a short course and those who are long-term unemployed who need help in getting back to work in an area where there is high demand for expertise.
The centre is located at the NZEB - or nearly zero energy building - at the Limerick Enterprise Development Partnership campus at Roxboro Road and beside the Southill area in Limerick's suburbs, and has been established by the Limerick and Clare Education and Training board.
It will train and upskill people in the green construction trades needed to battle climate change at the household level - skills which are in short supply, like retrofitting, interior and exterior insulation and cladding, air tightening and the installation of solar panels, to make homes more energy efficient for the future.
The Minister for Further and Higher Education Simon Harris has admitted "we are never going to achieve our climate targets without the National Retrofitting Plan but one of our biggest challenges is attracting people to partake in the area of green skills."
"We're going to need 17,000 people employed in the retrofitting area up to 2030 and another 50,000 in the construction sector to build the houses we need, so we have to ensure we have the capacity to meet that," the Minister said.
"Facilities like this one make sure that we have the right training on offer and are attracting the people we need to take up the places."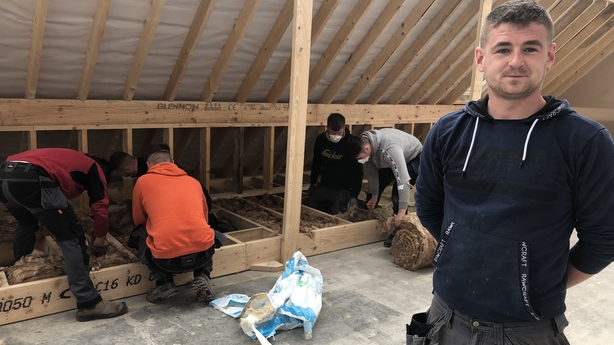 Steven Moriarity is one of those upskilling at the new centre in Limerick.
He is at phase 2 of his carpentry apprenticeship and is learning the extra green skills needed to upgrade homes to a higher energy rating.
"A lot of homeowners now want to upgrade their homes from a B rating to an A rating and there are grants available to do this," he said.
"The lads here on this course are being trained in these new skills and how to properly apply them in construction projects.
"There is a major shortage of skills in this area, and that makes this type of work very expensive.
"Hopefully this centre here will change that, by making more workers available in this area."
Cathal McNicholas is the Construction Skills instructor on the course. He says many of the trainees will already have some construction experience and will be able to upskill quickly to install solar power, interior and exterior insulation and attic insulation construction.
"But these are new skills and necessary skills, and with the way climate change is going at the moment, its all about these guys being able to go into homes and improve the energy rating of the house," Mr McNicholas said.
"A lot of older homes are at a B or C energy rating. We need to get those houses up to an A rating or higher, because that's where we need to be right across the country.
"There is a colossal shortage of those skills at present. We need to also get people who are unemployed back into the labour market with these skills where there is a huge demand.
"Those leaving here will have skills up to an extremely high standard.
"We don't want retrofitted houses having problems down the line because their insulation or solar panels were installed incorrectly as that creates a whole new set of problems.
"This centre is designed to ensure quality work for the future."