The village of Mooncoin is abuzz today with rumours and speculation after the National Lottery confirmed that the Lotto ticket worth €8,508,720 was sold in a local shop.
So far the owner of that winning slip of paper has yet to come forward to claim their prize but what is known is that it was a €6 Quick Pick selection and was bought on Saturday at Blanchfield's Centra, Main Street, Mooncoin.
For the Co Kilkenny shop owners, it is a case of déjà vu as they sold a winning ticket worth €6.8 million in December 2019.
"Great news, we're very surprised, we didn't expect it so soon after the last win," said co-owner Alice Blanchfield today.
"We're turning into a lucky shop. We're very excited and just hope it's someone local, some of our loyal customers."
Her husband Michael Blanchfield said they are "absolutely delighted" and cannot believe they have sold another big winner.
"It's great for the community and great for the staff and great for ourselves. It's just great for the whole area and brings a bit of joy in these times which is badly needed."
He said there has been much talk about who the winner might be, but no real clues as of yet.
"We'll just have to wait and see and whether that person will come forward or not.
"I hope it brings them luck and that they use the money wisely. Hopefully it's a local, but you never know."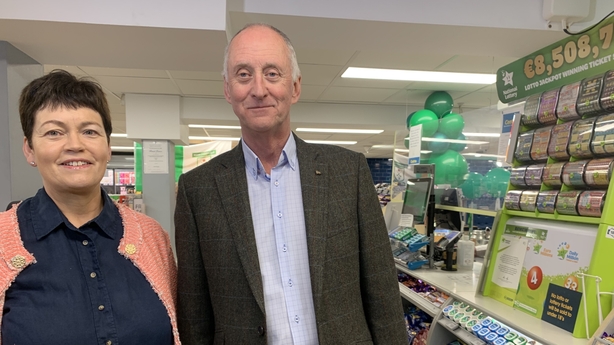 The €6.8 million winner over two years ago did claim their jackpot but did not "go public" so it is not generally known who it was, Mr Blanchfield said.
"There was an awful lot of speculation and stuff but we're still watching out for the new cars and the new houses, we haven't been able to figure it out yet."
Working behind the counter today, staff member Margaret Phelan confirmed that she was not the winner.
"No. And I had my lotto done, I checked it here on Sunday when I heard it was the southeast but it wasn't us, unfortunately. We do the same numbers every week so we didn't do a Quick Pick."
"It is great for the community," she added, to have another big winner in their midst.
"It wasn't me anyway," customer Katie Chaffer said.
A sentiment echoed by her friend Marjorie Godinho, who said that if she did win such a prize she would share it with her children.
"I've five children and seven grandchildren," she added.
The jackpot winner, who is yet to come forward, is advised to sign the back of their ticket and keep it safe.
The winner should contact the National Lottery prize claims team on 1800 666 222 or email claims@lottery.ie and arrangements will be made for them to claim their prize.