Giving obstacles and negativity the boot is the aim of a new project under way in Kilkenny which is aiming to find and develop leadership figures within the local Travelling community.
Project Ains Nyuk - a cant phrase meaning "leader" - was launched by garda management in the area with the support of the Kilkenny Traveller Community Movement as well as backing from the Football Association of Ireland.
The initiative primarily consists of training and preparing for a series of football matches between teams representing local halting sites and teams from established Kilkenny city clubs, such as Freebooters AFC and Evergreen AFC, which it is hoped will happen in the coming weeks.
In the meantime, "brainstorming" meetings were held involving all of the interested parties to identify leaders within individual Traveller communities in Kilkenny.
They, in turn, have picked boys to make up their football teams and weekly training sessions at the Freebooters HQ in the city are under way.
"It's going very good, very good now. It's something to be doing," one of those leaders, Michael Carty said.
"Do a couple of hours away from home and stuff like that, get the lads learning."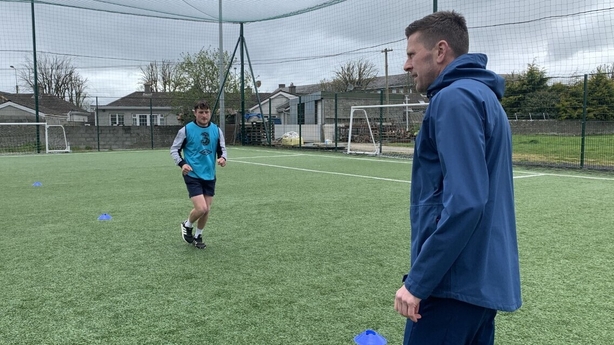 He also hoped it would help develop "good soccer players" within the community as the sessions and matches continue.
Superintendent Derek Hughes, who has led the project from the start, said it is a Garda-led leadership programme with representatives from the St Catherine's and St Mary's Park areas in Kilkenny.
"It focuses on identifying young leaders in those communities and harnessing and developing those leadership skills.
"The selected participants are young men who have demonstrated leadership in their communities and we've conducted brainstorming sessions with them in terms of identifying what cultural values are important to them and how their communities would like to see themselves represented within the wider Kilkenny community," he said, adding that soccer is something that the participants are interested in, and is seen as a way to help build their skills.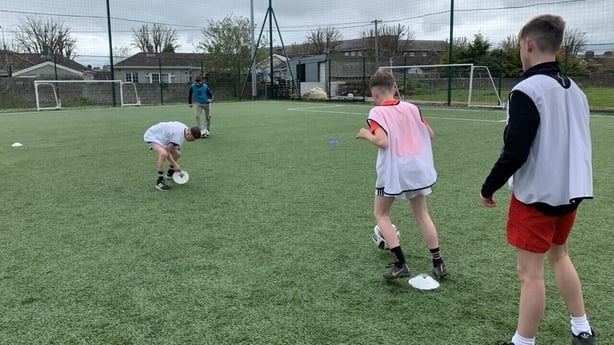 There are already "close relationships" within the local Garda Síochána with all communities in the area, according to Superintendent Hughes, "and we want to build ever-closer relationships with the two selected communities".
Sergeant David Gorman said it is hoped the leaders involved will become "role models" within their communities.
"They're going to be responsible for their teams, get them here to matches - I suppose that in itself is a leadership quality - and for the lads on the teams to look up to and hopefully emulate in time to come."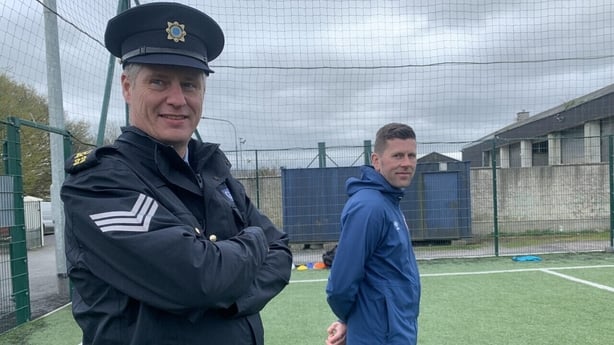 There has already been a lot of backing in the area for the scheme, and support from the families of the participants.
The Kilkenny Sports Partnership and gardaí asked the FAI to get on board and, according to FAI development officer Will Kinsella, they jumped at the chance.
"It's been really good so far," he said.
"The whole objective of the project is to find leaders within the Travelling community and as we know, football is great for producing leaders throughout all groups and especially in the Travelling community it's going to be good for them to get out and knock around a football."
He hoped it would eventually help them to get involved with the local clubs and reported that the young players have been very interested to date.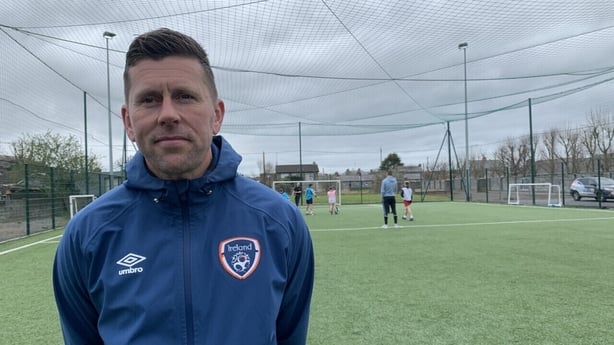 "The guys have really, really taken it on board. They're all really interested in football and it's my job to keep that interest and make sure it's fun, energetic as well, but also going back and making sure there's some backing in it and they're leaders in their own community."
Helena Power of the Kilkenny Traveller Community Movement said she hopes "some of the barriers will be broken down" between Travellers and the rest of the population.
"I would hope that some of the young people involved, it would change their impressions of the gardaí maybe and the gardaí impression of them, and help build relations between the two sides."
The programme is "fantastic" for all taking part, she said.
"As we all know, exercise and sport are fantastic for mental health so I think this will be a really positive experience for the young lads involved as well."