More than 7,200 Ukrainians have arrived into Ireland in the past two weeks, around one third of them are being accommodated in hotels across the country.
A group of 84 Ukrainians arrived into the west Clare coastal town of Kilkee in the early hours of this morning to be accommodated at the Kilkee Bay Hotel.
It is one of a number of hotels across the country being contracted for a period of three months initially, to accommodate Ukrainian citizens fleeing the war in their country.
We need your consent to load this rte-player contentWe use rte-player to manage extra content that can set cookies on your device and collect data about your activity. Please review their details and accept them to load the content.Manage Preferences

We met Olena Prymak, her 17-year old daughter Eliza and son Illia, aged 11, who had fled from Bucha outside Kyiv because of heavy fighting and bombing that had destroyed their home.
She had travelled for four days through Poland and Slovakia before arriving in Dublin and then onto Kilkee.
She has left behind her husband and her daughter's boyfriend. She said they are all very tired after their long journey and was tearful speaking of her loved ones left behind.
She was glad to be in a safe place and went for a walk on the beach at Kilkee, her first time seeing the Atlantic ocean, but it is not the way she would have wished to see the sea.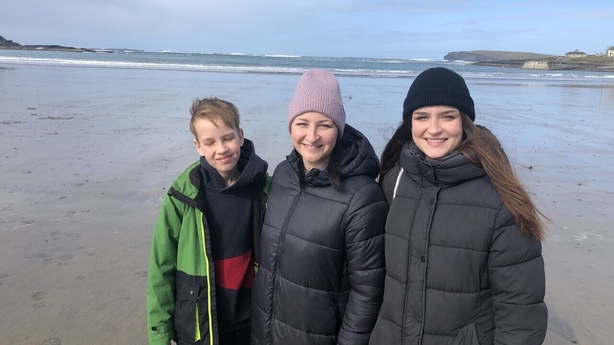 Julia Chychul and her daughter Arina, aged 12, and son Illia, aged nine, were also part of the group that arrived to stay in Kilkee.
She said she and her children were so upset leaving their father to fight in Kyiv, and it was a very difficult decision to take her two children away, but she had little choice.
She was crying looking out at the sea, but managed to remark on what a beautiful place it was, and how grateful she was to the Irish Government and the Irish people for letting them stay here to be safe, but she is hoping it will be for a short while.
Ruslan Baizamov and his mother Anhelina also travelled from Uman in Ukraine. His father and younger brother are still there, and he said it is so very sad to have to leave them behind and be so far away from them. He checks in with them each day to see how they are.
The Kilkee Bay Hotel has been working over the past few days to try to make the hotel a welcoming place for their grateful but reluctant visitors. It has welcome notes and signs, and menus and local orientation pages done up in their own language to try to make their very difficult transition easier.
Reservations Manger Mairead O'Brien said they arrived into the hotel in the early hours of the morning, they were exceptionally tired, disorientated, and hungry.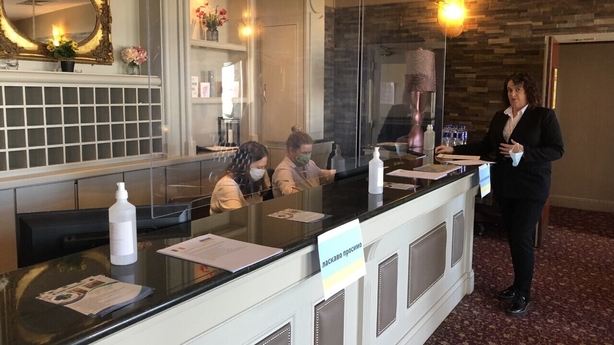 She said: "We did up our welcome signs, and welcome notes in their language in the yellow and blue of their national flag so they could see immediately the appropriate and relevant documents for them.
"We also had a huge pot of Irish stew ready for them so they could have a plate of food, as many had travelled for days without a proper meal, and they were nourished by that.
"Their stories are heartbreaking. Many of our guests have young children. Many have left brothers and sons behind, and are fearful they will not see them again.
"But I know they will get a great west Clare welcome and local people will do whatever they can to help them settle in these difficult times."
Local councillor Cillian Murphy, who lives in the town, said he has been inundated with offers of help from the Kilkee and wider west Clare community, but he said there is a need for a formal and coordinated approach to their care.
"We are well used to welcoming visitors to Kilkee, but these people are coming for very different reasons, and are traumatised by being forced to leave their homes in very difficult reasons.
"I hope the Department of Children, along with the gardaí and Clare County Council can help establish a designated liaison officer, or some 'go to' person locally who can coordinate their needs and requests so that the object of all our efforts to help can benefit them, and not us," he added.