A new footbridge over the River Dinin in County Kilkenny was officially opened today.
The Castlecomer Footbridge is located beside the existing - and protected - road bridge and is designed to improve pedestrian access between the town centre and the Discovery Park as well as the rest of the town.
A two-span steel box girder bridge, the structure has a timber deck and is supported on piled concrete foundations.
Supporting walls are clad in stone which was implemented to complement the existing stonework on both sides of the bridge.
It contains lighting within the handrails and provides strategic lighting of the niches of the road bridge.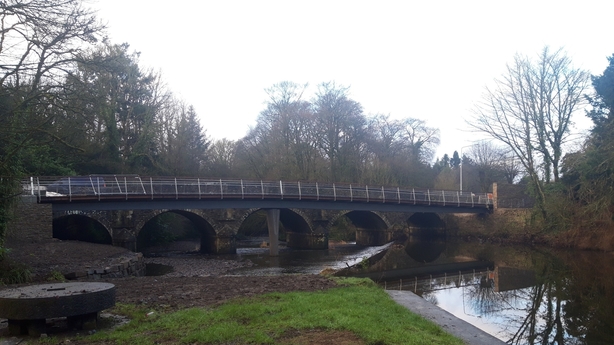 Present for today's opening were officials and members of Kilkenny County Council.
"The opening of this bridge is very much welcomed by the people of Castlecomer area, connecting and making it safer for residents and visitors alike to access the very popular Castlecomer Discovery Park," Cathaoirleach of the council, Fidelis Doherty said.
She pointed out that getting the project from inception to opening involved a collaborative effort by several agencies and companies, as well as consent and co-operation from landowners on both sides of the river.
Chair of the council's municipal district, Cllr Pat Fitzpatrick, said the bridge will be "a huge addition" to the tourism offering in Castlecomer.