A new 'learn to cycle' park which has just opened in Dungarvan, Co Waterford is aimed at helping children and beginners gain confidence when cycling in a near-real-life environment - but without engine traffic.
The €50,000 development is located at the west Waterford town's Linear Park, close to the hugely popular Waterford Greenway and beside an existing playground.
The area is also expected to host other new facilities in the coming months, such as a skatepark, BMX area and dance zone which is being developed by the local council in conjunction with the Waterford Walls art group.
With roads, white and yellow lines, traffic signs, and a pedestrian crossing, the track allows new cyclists to learn how to navigate routes and without having to worry about cars or trucks.
'It's like a real-life version of the road'
According to Rosarie Kealy of the Waterford Sports Partnership, the idea was to give young children but also others keen on getting into cycling a chance to learn in a safe setting.
"It's like a real-life version of the road - we have the roundabout, stop signs, clear runs for children to practice staying between the lines.
"The whole idea is to give children confidence learning to cycle and it's located here beside the playground so it's like a transition, and another area to play."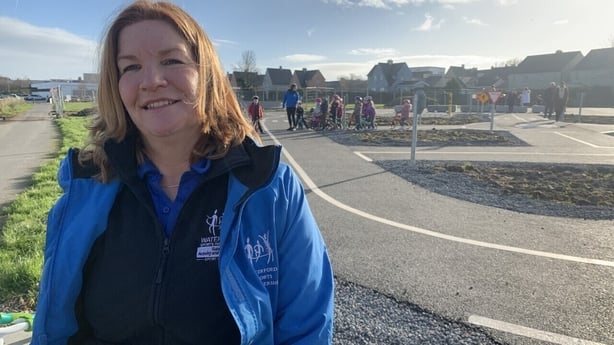 She pointed out that it is part of the overall strategy to promote cycling and activity.
"Anything that helps parents bring their children here on a balance bike or on a bike where they're learning. You could have a 10- or 11-year-old who's a bit nervous, it's a great place to take time out and just practice.
"And it's great fun as well."
It is hoped that it will be yet another incentive for people to take to the outdoors.
"We're a Smarter Travel Town here in Dungarvan," director of services with Waterford City and County Council Kieran Kehoe explained, "and obviously, as the home of the greenway, cycling is front and centre of that.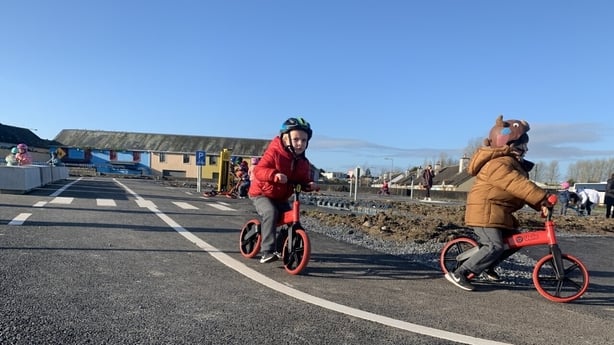 "So we are really as a council promoting outdoor activities and improving the recreational amenity of the town.
"With the Greenway and all of the active travel cycle routes in the town, we said there was obviously something missing here, there is a gap. And that gap is, where can kids learn how to use their bikes on the road in a safe manner, size-appropriate to them, and where parents and themselves can have a bit of fun as well.
"So we looked at other models around the world, particularly across Europe and into central Europe in particular and we discovered these models of Learn to Cycle programmes.
In conjunction with the Waterford Sports Partnership here we developed this scheme ourselves and through our own engineers we designed the scheme, it went out to tender and we secured the funding," Mr Kehoe said.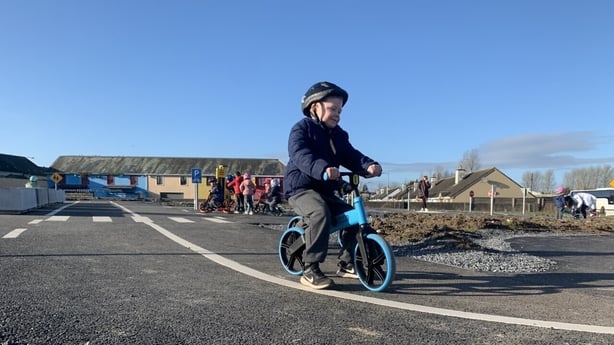 The money for the project included a contribution from the Local Government Fund and the Capital Grant Scheme for Play and Recreation administered by the Department of Children, Equality, Disability, Integration and Youth.
Mr Kehoe said this is the first part of a "major regeneration" of that part of Dungarvan, with a new performance area to include areas for BMX activity, skating and dance.
Peter Jones of the Waterford Sports Partnership described it as "an innovative and exciting venture" which provides a safe environment for people of all abilities to learn to cycle safely, and allow the partnership deliver courses developed by Cycling Ireland "including balance bike training, disability cycling, sprocket rocket and cycle right in a completely accessible and traffic-free environment".