One in five Traveller families in the southwest of the country were homeless in 2018, according to a report by the Cork Kerry Regional Traveller Accommodation Working Group.
'A Hidden Crisis: Traveller homelessness in the South West' shows that when overcrowding is included, just over 85% of families surveyed for the report were homeless.
The report was commissioned by the Cork and Kerry Regional Traveller Accommodation Working Group, which was set up in 2015, following the Carrickmines fire tragedy that claimed 10 lives on a Dublin halting site.
Under the Irish State definition of homelessness, the report found that 88 individuals of 397 respondents qualified as homeless, which is 22.2%.
However, under the European definition of homelessness the figure rises to 85.6%
The European Typology of Homelessness and housing exclusion (ETHOS) classifies people who are homeless according to their living or "home" situation.
We need your consent to load this rte-player contentWe use rte-player to manage extra content that can set cookies on your device and collect data about your activity. Please review their details and accept them to load the content.Manage Preferences
Traveller representative organisations say ETHOS is more inclusive and recognises the effects of living in overcrowded and temporary accommodation.
The report says hidden homelessness is a growing problem for Travellers.
Many are sleeping in cars, rough sleeping or accessing temporary accommodation through local groups, according to Breda O'Donoghue of the Cork Traveller Visibility Group.
Most families that she is working with are living in vans and cars because they were evicted off halting sites.
Ireland's anti-trespass laws mean they cannot park their caravan on the side of the road. They are often impounded by the local authority.
The online seminar launch of the report heard that "lucky" homeless are those who can move a caravan into the back of their parents' home, which has resulted in "massive overcrowding" and not enough facilities.
One bay in a halting site is meant to accommodate one family, but up to five families could end up using a single bay.
That means one toilet, one sink and one shower are being shared between 40 or more people, if each family has several children. Some may not have access to the electricity point.
One of the report authors, Dr Samantha Williams of University College Cork, said that 85% of landlords said they would not rent to a Traveller.
Many keep their ethnicity secret.
Independent Senator Eileen Flynn said there was racism and discrimination towards members of the Traveller community when it came to housing.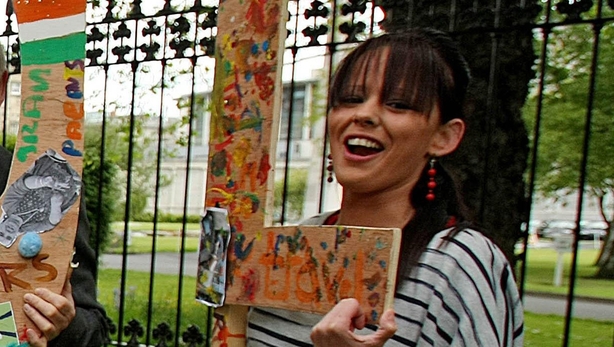 Dr Rory Hearne who is Assistant Professor of Social Policy in NUI Maynooth said the right to housing needed to be put into the Constitution as a human right.
"It's fundamental because until we take an approach to housing and Traveller accommodation that comes from the perspective of an obligation on the State, I don't think the State will deal with it adequately so this recommendation to constitutional right to housing is needed," he said.
The report according to Dr Hearne highlighted the continued criminalisation of Travellers and the eviction of members of the Traveller community into homelessness.
Brian Harvey who conducts Social Research for Pavee Point outlined the findings of a report published in 2019.
He said there was one system in the Department of Housing dealing with homelessness and another dealing with Traveller Accommodation.
Mr Harvey questioned how Traveller homelessness could be dealt in this regard and said the Hidden Crisis in Traveller homelessness report published today showed that the two were related.
The report says the current definition of homelessness provided by the State is not suitable and excludes a large number of those, including Travellers, who are homeless and unable to access supports and structures.
The Cork Kerry Regional Traveller Accommodation Working Group recommends that this policy definition be updated in line with the ETHOS definition of homelessness to fully reflect the crisis Ireland is experiencing.
It says the current definition of overcrowding under the 1966 Housing Act is not fit for purpose and enactment of the proposed Overcrowding Bill 2018 would strengthen penalties for property owners who build and manage overcrowded accommodation.
It recommends that each local authority must, as a matter of urgency, adopt appropriate policies and practices regarding Traveller homelessness, including family-specific hubs with supports, serviced halting sites for temporary and emergency accommodation for young couples, in Kerry in particular.
It has called on local authorities not to evict individuals into homelessness without finding an adequate alternative.
Senator Flynn said the Government had been "kicking the can" down the road, despite recommendations on Traveller accommodation from numerous reports and committees.
"When it's our children and our future generations enough is enough," she said.
"The Government, departments and local authorities are not listening to us."
Senator Flynn also said the definition of homelessness needed to change, because for many members of the Traveller community, a trailer is a home.
The Minister of State for Local Government and Planning welcomed the Hidden Crisis: Traveller homelessness in the South West report.
Peter Burke said he was working with opposition parties to ensure local authorities that fail to provide units outlined in their accommodation programmes, are held to account.
He pointed out that the full allocation of funding for Traveller accommodation had been drawn down in 2020 and 2021.