Temple Bar publican Martin Keane could be given back possession of the Iveagh Market as a result of ongoing negotiations with the Guinness family and Dublin City Council.
The fourth Earl of Iveagh Edward Guinness took possession of the market building in December 2020 after it had lain derelict for 20 years while awaiting restoration and redevelopment.
It was originally built by the Guinness family and the Earl of Iveagh claimed there was a clause that allowed ownership to revert to the family if development failed to take place.
However, Mr Keane who purchased the option to develop the site then took a High Court challenge against the repossession and the issue has remained deadlocked since then.
He had paid nearly €2 million for the development option and owns the nearby Mother Recaps site.
However, he has failed to develop the site despite two separate planning permissions granted in 2007 and 2012.
Mr Keane's plan is for a "Covent Garden" style market along with hotel and restaurant facilities but both planning permissions lapsed without any development going ahead.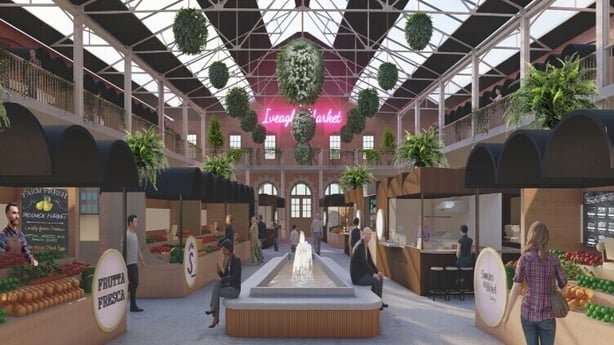 A third planning application by Mr Keane was rejected by Dublin City Council on the basis that he no longer had an option on the site as he had failed to carry out the development. Mr Keane has challenged this in the High Court as well.
The three parties, Mr Guinness' company A.M Guinness Markets, Martin Keane and Dublin City Council have been in mediation since February 2021 but no overall agreement has yet been reached.
It is understood that it has been agreed to carry out an in-depth survey of the building. A previous inspection estimated that repairs could cost €23 million.
One of the stumbling blocks in the negotiations is understood to be whether Mr Keane will get full ownership in advance of carrying out repairs to the building or after they are completed.
In a statement, Mr Guinness and consultant Paul Smithwick said that they are "gravely concerned that unless immediate repairs to the roofing are carried out as a matter of urgency that the Iveagh Markets are endangered with total dereliction beyond repair and consequent extinction".
Mr Guinness said the process has been "frustrating" but he is hopeful that the issues can be resolved.
He added "whoever is captaining the ship" it must be with sensitivity "to local people and the needs of the local community".
He pointed out that the building had been gifted by his great-grandfather to the people of Dublin.