An exhibition running across three prominent venues in Waterford city over the festive period is showcasing the life's work of a well-known local artist, as well as focussing on the plight of Syrian refugees in recent years.
Elpis is the ancient Greek word for "spirit of hope" and is the title of the retrospective by Ben Hennessy, spanning four decades of paintings.
Over 70 works can be viewed at the Gallery of Modern Art in Waterford as well as the Theatre Royal and the Artform Gallery at 44 The Quay, where a large chunk of the third floor has been dedicated to the show.
Some of the paintings completed in the last couple of years are inspired by refugees from Syria who have made their way to Izmir in Turkey.
We need your consent to load this rte-player contentWe use rte-player to manage extra content that can set cookies on your device and collect data about your activity. Please review their details and accept them to load the content.Manage Preferences
Many are looked after by the centre run by Team International Assistance for Integration charity, founded five years ago by Anne O'Rorke, who is also from Waterford.
"During the Covid lockdown I participated in an online exhibition hosted by the Imagine Festival here in Waterford," Mr Hennessy recalls.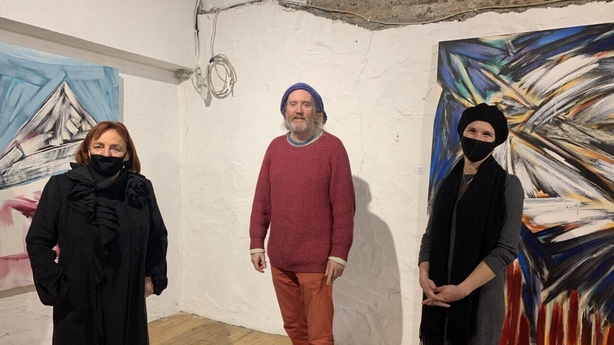 "As part of that, I gave an interview from my studio and mentioned my boat paintings and their referencing of Alan Kurdi and the Syrian refugees."
As a result, Ms O'Rorke got in touch and, following their conversations, Mr Hennessy travelled to Izmir to help out at the TIAFI centre, with art classes for the young refugee children as part of his work.
"I'd been working with children all my life, doing art and theatre, and I suggested would be it be a good idea to come out, not knowing was it a good idea because of the desperate situation that they were in, in terms of not having enough food, the living situation, so to go a place and do art I genuinely wasn't sure if I'd be welcomed.
"But, on the contrary, it proved to be something that brought a bit of joy there and I ended up doing a lot of Facebook blogs, telling the people's stories, with a view to raising money to build an art room. So, we built an art room and the response was so positive that we were able to employ an art teacher for a year, a couple of days a week, and the money was also able to help out with ongoing work that Ann does with an incredible bunch of people in Izmir."
Details of the exhibition in Waterford are available online and, according to Ms O'Rorke, should raise awareness of her group's work.
"Ben has been an inspiration. When you're over there working all the time, and I've been there for five years now, you get full of sadness and it's a very sad situation sometimes and then Ben comes along and all of a sudden he brings this joy to the place," she said.
"And even though in some of these pictures I can see the sadness within them, there's also a great energy in them and they really represent the plight of the refugees.
"I think they are wonderful paintings and not only are they wonderful paintings but the goodwill that they bring and the fun that Ben brought to us has been amazing."