It's now in its sixth festive season and so far it has raised over €30,000 for various charities and support groups working with homeless people.
BuskAid traditionally brings dozens of buskers and many spectators onto the streets of Waterford for what has become a staple of Christmas in the south-east, and while it may be different to when it was founded back in 2016, at least it went ahead.
Last year the event took place completely on-line and while this year it was back in front of live audiences of shoppers and walkers in the city centre, there was not the "traditional" large-scale group busk which has happened in former times.
"We do it every year, just before Christmas," co-founder Tadhg Williams said today, "artists, musicians, we've had people from all over the south-east come to Waterford and just play on the streets, every year, it's incredible.
"At this stage we've raised over thirty grand for local homelessness charities. The charity we've been looking after over the last few years is the Tinteán housing association, a phenomenal charity who look after women in homeless situations in particular.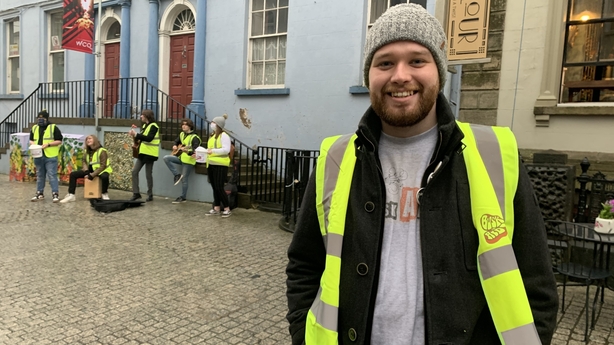 "It's getting bigger and better every year, obviously the last couple of years have been difficult, it's a much more stripped-back event this year, normally we'd have a big group busk at the end of the day and that would be the big thing, we'd all gather around and sing Fairytale of New York or whatever it may be. We're not doing that obviously with the current public health situation."
The weather did not help this time either, but the buskers still generated plenty of interest, dotted at strategic locations like John Roberts Square, the Apple Market, George's Street, O'Connell Street, and other places. Donations are still being accepted at the link at buskaid.net.
Claire O'Sullivan of the Tinteán Housing Association said it is "hugely important" to have such a fundraiser.
"The money that they raise goes directly to helping the women that we serve, so single women experiencing homelessness and families experiencing homelessness.
"It goes directly into the programmes that we develop for them, so we'll teach them a lot around healthy life skills; how to be a good tenant and a good neighbour; and a whole load of things like budgeting, cooking, cleaning, everything that you need to live independently and sustain independent living.
"To be honest, since covid it's even more important. We've been trying to keep our 24/7 service staffed so to have a fundraiser like this organised on our behalf is just unbelievable."
One of the near 40 participants in today's BuskAid, Ailise O'Neill said it was good to be able to participate in a live show.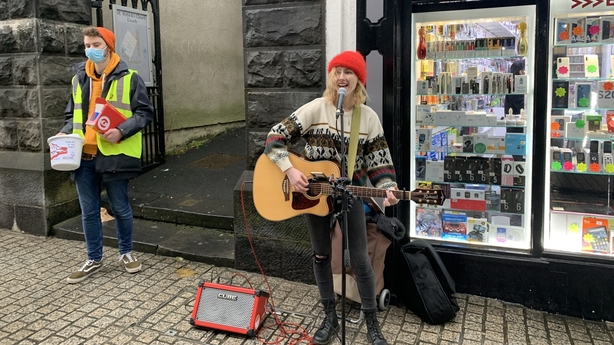 "It's just one of those events that brings musicians together in town as well as raising money for homelessness, which is a really important cause at the minute, but I think since lockdown it's just been very hard for us all to work together and see each other and today is very important because we couldn't do this last year on the street, so it's great."
The response was positive from the public, she said: "Everyone is just kind of having a little bop around when they're walking past and giving donations in and some people stop and have a sing-a-long and go on, so it's been great."