Iarnród Éireann has launched a national rail freight plan in Ballina in Co Mayo, which aims to increase operations in line with growth in demand across the EU.
The company says the expansion will be in line with the Government's Climate Action Plan goals.
Ballina is one of Iarnród Éireann's key hubs for the movement of freight, with container services operating to Dublin Port and, in recent months, to the southeast of the country.
This morning, the rail yard was busy organising the transportation of pulpwood to Waterford Port for Coillte.
The Rail Freight 2040 Strategy aims to have a five-fold increase in operations, including over 100 new weekly services across the network with new low carbon modes of transport.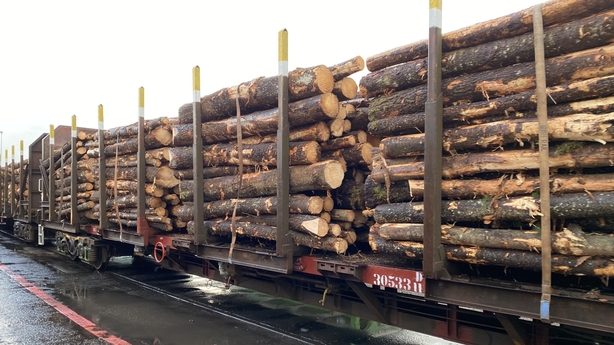 Glenn Carr, General Manager of Rail Freight Ireland, said the projected growth in operations and the ability to move freight sustainably will play a key role in tackling road congestion, enhancing regional connectivity and supporting economic growth whilst meeting climate change objectives.
"Rail freight today is the most sustainable, environmental and efficient way of moving goods in, out and around Ireland," he said.
"Going forward, we're building on our current services with investment in the track, rolling stock and what's known as 'intermodel depot' strategically located around Ireland closed to key industry hubs.
"Under the new plan there would be a reduction of 25,000 tonnes of C02 emissions annually.
"Rail freight emissions per unit would be as little as 16% of HGV emissions. This targeted growth would deliver a more sustainable future and avoid the requirement for 140 thousand HGV journeys on our roads annually"
Rail freight currently relies on diesel fuel, but the strategy going forward sets out to include electrification of our rail network.
At today's launch, Junior Transport Minister Hildegarde Naughton said the strategy is an "exciting initiative for growth and investment opportunities right across the country".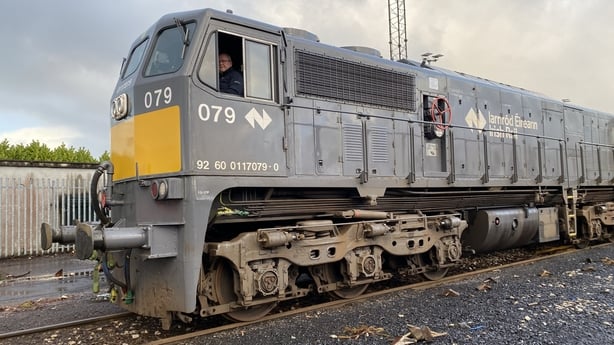 "Part of that rail freight investment is to lower harmful emissions and eventually roll out electrified rail systems around Ireland," she said.
Industry representatives, collaborating in partnership with Iarnród Éireann, are IWT and XPO Logistics. The companies said the rail freight can be a viable green option that supports industry at the same time.
General Manager of XPO Logistics Kelvin Bulmer said they are happy to be moving more of their freight from road to rail and "delivering a more sustainable future for our industry".
"We've recently begun operating a service between Ballina and Waterford Port, which eases some of the congestion around Dublin Port," he said.
Iarnród Éireann says freight trains will play a central part in Ireland's Climate Action Plan, helping to reduce congestion and harmful emissions on our roads and at the same time, reducing its own carbon footprint on our rail network.