Homeowners in Mayo have staged a demonstration to highlight awareness of the ongoing pyrite controversy in their area.
They say the Government's revised compensation scheme appears to have stalled. Families gathered outside a house in Crossmolina, one of hundreds which is facing demolition.
Children love to play with cardboard boxes and their artwork was on display at the O'Boyle family home in Crossmolina. The boxes represent houses in Mayo which are cracking and crumbling due to pyrite levels in concrete bricks.
Eight-year-old Lily McLoughlin is 8 years old said there are big cracks in the houses and they have to knock them down.
"When they are knocked, we'll have no place to live basically," she said.
"I feel really upset because I have nowhere to live. My house is going to be knocked down. I've been living in it for my whole entire life.
"My friend in school, she has it too, and we really usually talk about how we're going to deal with this."

Noel O'Boyle's house will soon have to be demolished and he says the Government's "much improved" compensation scheme does not go far enough.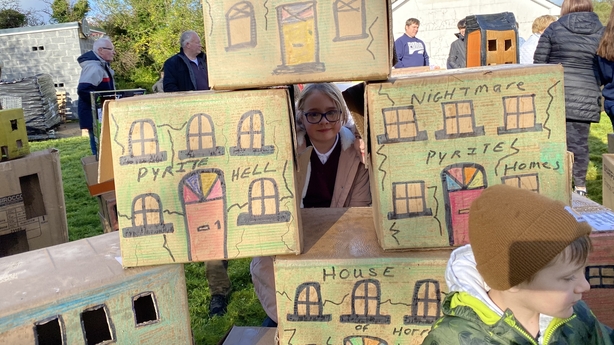 "I've five years left on the mortgage of this house and 12 years until I retire and I won't get a mortgage past that so I don't know where I am," he said.
"In four or five years' time, this house will be too dangerous to live in and my only option then is to go on the housing list and look for a council house.
"That's my only option and it makes a bad situation worse. Worse for my family and worse for the country.
If you take away the regulations that guarantee standards you are to blame if the standards fall. The Government did that."
Thousands of homes in Mayo and Donegal have been built with defective concrete blocks. Homeowners are seeking 100% redress but the cost has been described as "off the scale" by senior Government officials.
Donna Preston has a home in Ballina impacted by pyrite
"It's not our fault that this has happened. We bought or built our houses in good faith, and we're angry with the Government for not having regulations in place," Ms Preston said.
"We've already paid for our houses. We shouldn't have to pay for them again."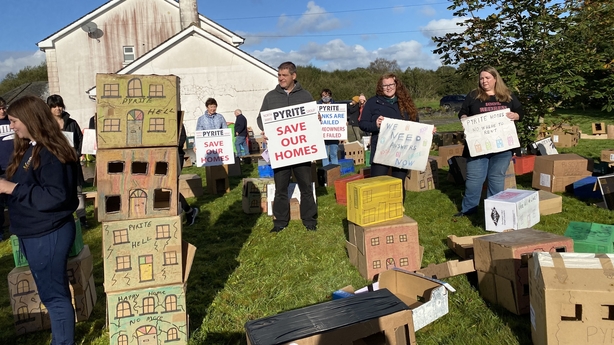 The cost of rebuilding homes in Mayo and Donegal is estimated to be over €3 billion. This is a figure described as "off the scale" by senior Government officials
Teresa Walsh is a homeowner who says the pyrite problem brought her down "like a ton of bricks".
"I'm absolutely tormented, the sleepless nights, not able to eat, not able to function. We've got to pull together and just pray and hope we get 100% redress," she said.
"They're talking about the cost of it but the cost of mental health and lives is what they should be looking at.
"Dublin got compensation. Why, why, why can we not? We deserve it."
Oisin Paige is nine-years-old and says winter is coming and the damp weather makes the cracks bigger.
"We went to Dublin twice to protest and we still didn't any answers from the Government," he said.
"Everyone feels worried and sad that the houses people worked hard to build are going to fall down."
Jessica Murphy is a teenager who says pyrite is a big talking point amongst her friends.
"Nearly all my friends have it in their homes and my house has it. I have a big crack in my room," she said.
"I feel very upset and it's really just a mix of anger and sadness that the Government are making us fend for ourselves."
John Wallace is a counsellor in the area and he says there has been a sharp rise in the number of cases with acute anxiety over the pyrite issue and the length of time it is taking to resolve it.
"It has a tremendous traumatic effect on adults and that in turn has a knock-on effect for children," Mr Wallace said.
"Children generally look to their parents for security and the house and the home is where they should feel safest. When there's upheaval like we're currently seeing with parents not able to resolve it, that's a very frightening place for children"
The lack of rental accommodation in the county is also causing deep concern for families when the time comes to move out of their homes.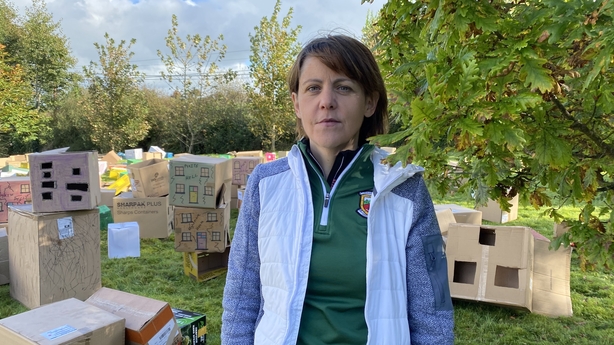 Martina Hegarty, one of the chief campaigners on behalf of the North Mayo Group, said the cracks are so bad that they need to move people out of homes.
"We can't move forward until we get a decision," Ms Hegarty said.
"We urgently need a response from the Government so we can get on with the next step in our lives.
"I know it's a lot of pressure on the Government to make a decision, but it's a lot of pressure on us as well and there's a lot of people struggling right now and they need just an end result."
A memo on the defective block redress scheme is expected to be brought to cabinet in the coming weeks.