The grounds of a former army barracks will host a unique outdoor theatrical production in Clonmel, Co Tipperary, next week.
A new telling of The Hunchback of Notre Dame will have its premiere on Tuesday 26 October at Kickham Barracks which is currently the subject of a major urban regeneration project.
The production is the work of Clonmel Junction Festival and follows a call-out earlier this year by Tipperary County Council Arts Officer Melanie Scott, looking for artists and arts organisations to create a programme of outdoor cultural projects.
Under the theme, Come Out to Play, the project was designed to bring people together and will see the barracks parade grounds transformed into 19th century Paris from Tuesday 26 October to Friday 29 October.
Over 100 community-based performers are joining with creative and production teams to put together this spectacle, directed by Clonmel native, Jack Reardon.
A graduate of the Lir Academy, Mr Reardon has since worked with Landmark Productions and the Gate Theatre while his fellow graduate Jack Scullion is responsible for the set designs for this venture.
Musical director is Kate Twohig who has brought together a choir ranging in age from 17 to 75 to take on the vocals of the score, with Eamon O'Malley leading the 12-person orchestra and choreographer Ciara Laste in charge of movement.
"We are delighted with the creative team, as we've always known that we have in Clonmel artists that can take on a project of this scale in an assured fashion," Junction Festival artistic director Cliona Maher said.
"We're really looking forward to seeing the performances by the ensemble and the principals, as we've been so lucky to have a cast that are up to the material, both musically and theatrically," said Clonmel Junction Arts Festival Artistic Director, Cliona Maher.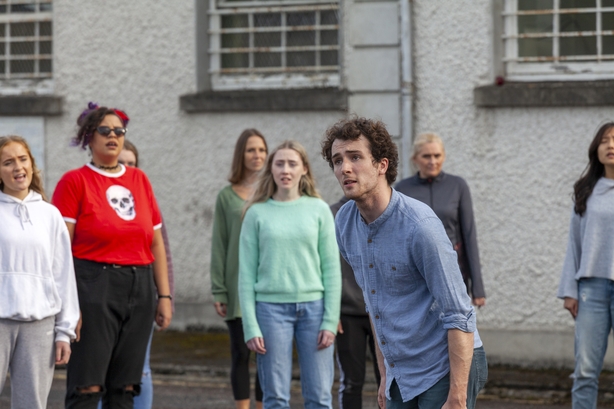 The principals are all Clonmel-based and include Riain Cash in his first role since graduating from American College's Musical Theatre course as Quasimodo.
Conor Lonergan plays the clown Clopin and local secondary school teacher, Diarmuid Bolger, takes on the role of Frollo.
Paul Sheehan, who has worked all over the world, including off-Broadway, plays Captain Phoebus and Jordan Freeman is Esmerelda.
The production team said they received support and assistance from the council and the Education and Training Board to allow them proceed with this project.