Cork city's Coláiste Chríost Rí boasts an impressive alumni - international footballer Denis Irwin and GAA footballing legend Billy Morgan to name a few.
A new addition to the school at is attracting a lot of attention, however, as a group of goats have been situated to the side of the school's playing field with a special purpose in mind.
The goats have been tasked with the job of clearing the weeds and scrub, thus demonstrating a natural and sustainable way to clear the land without the use of chemicals.
The initiative is the brainchild of west Cork man William Walsh, who's 'Rent a Billy Goat' scheme enables people to utilise goats in a way that encourages biodiversity and avoids pollutants, while still achieving the intended goal of clearing scrub and weeds.
"We wanted to clear some of the areas to the sides of the sportsfield and when I saw William's scheme advertised online I knew it would provide a great solution," said Green Schools Coordinator at Coláiste Chríost Rí Éamonn Ó Ríordáin.
FÍSEÁN "A thiarcais an domhain mar ithid na gabhair cabáiste!" Lomaire féir den déanamh is ársa agus is íonghlaine curtha ag obair i gclós scoile i gCorcaigh ... pic.twitter.com/GEJqdmFq6i

— NuachtTG4 (@NuachtTG4) October 5, 2021
He said: "It's been very successful and the students are really engaged. It shows there is another way to work with nature which doesn't involve chemicals and teaches about the importance of biodiversity.
"Many of the students had never even seen a goat in their life so to have that engagement on the school grounds is something they will bring forward with them."
Mr Walsh founded the Rent a Billy Goat initiative to encourage sustainable land management and to provide a natural solution to deal with the overgrowth of species, such as bindwood.
He says goats could be employed to tackle invasive species, such as Japanese Knotweed, rather than using toxic weedkillers and herbicides that can ultimately damage the environment.
Goats have four stomachs and can fully digest seeds, thus preventing the further spread of the species that are most difficult to contain.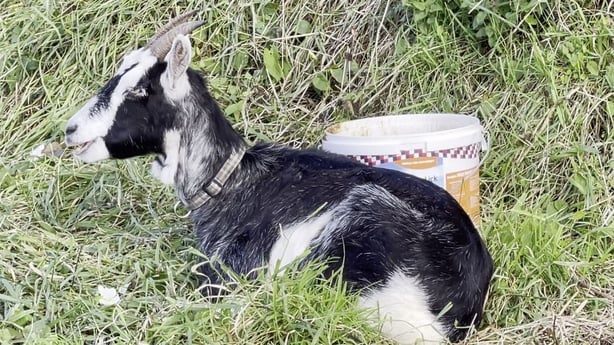 The goats at Coláiste Chríost Rí are mostly male and of the British Alpine, Toggenburg and Saanen breeds. Mr Walsh said they each have very distinct personalities and have been bestowed a series of interesting names.
"We have Hydra, Medusa, Nibbles, Buzz, Pythagorus, Camera, Spike, Hercules and Sona, which are talking points in themselves," he said.
"It peaks interest in the students and that contributes to greater awareness of sustainable ways to manage land without chemicals."