It was used by the ancient Romans to build roads across wetlands in Europe. Now it is being used by a voluntary group in Co Leitrim to upgrade a hillside walking trail.
Fleece from local sheep is the novel ingredient in the technique being used by Mountain Meitheal North West, the volunteer trail-building group currently working on 'The Leitrim Way'.
Commonly used in Scotland, the technique had largely fallen out of use here in Ireland. Expert trail builder Frank McMahon, who is volunteering in Leitrim, said they cut the section of path out in the bog and then lay the fleece down before covering it with four different grades of stone.
They are creating a "floating path", he said, with the untreated fleece acting as a barrier between the bog and the stone - the fleece prevents the path from sinking and allows water to pass through unobstructed.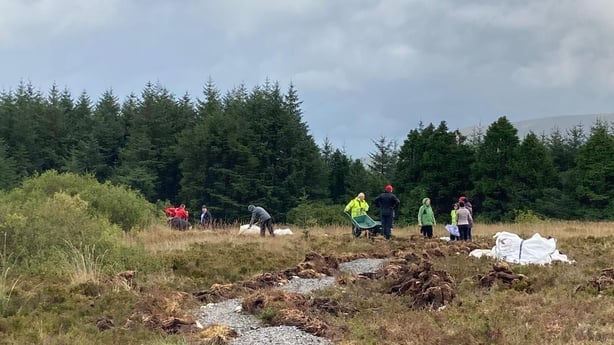 The alternatives, according to Bryan Fennell, Rural Recreation Officer with the Leitrim Development Company, are a type of plastic or wood, neither of which is sustainable in the long-term. This technique is eco-friendly and has huge potential nationally for walking trails.
"It's a game-changer," he said.
Paying tribute to the volunteers who have been braving all weathers to work on the trail every second Sunday since the end of July, Mr Fennell said their role is vital to upgrading the walkway which in turn will be of huge benefit to this part of Leitrim, bringing in more visitors to enjoy the walk.
"Many of our national walking routes cross sensitive upland peat areas that easily become damaged from human activity,"Mr Fennell said.
"As we have seen from the last year, the number of people discovering these upland areas has increased immensely and the need to protect these sensitive peatlands from erosion, while still encouraging active lifestyles, is now greater than ever."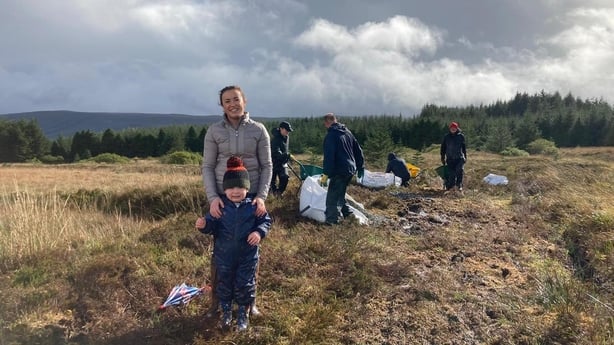 The section of the walkway being worked on is between Manorhamilton and Dowra and crosses the Golden family land. Victoria Golden says they are delighted to be part of the project to upgrade the walking trail and to supply the fleece from their flock which graze the same hillside.
The market for sheep wool has been poor in recent years, she said, so it is a new potential market, adding that it is nice to see it being put to good use.
Mountain Meitheal North West is a newly formed branch of Mountain Meitheal, which is entirely volunteer based and gets involved in projects that protect and conserve mountain and forest areas in Ireland.
We need your consent to load this rte-player contentWe use rte-player to manage extra content that can set cookies on your device and collect data about your activity. Please review their details and accept them to load the content.Manage Preferences