As thousands of workers return to their places of work, some retailers and shop owners in bigger provincial towns are hoping that some of the unexpected habits that were formed during Covid restrictions will remain.
The 'Shop Local' movement gained huge momentum during the Covid lockdowns, when people across the country came back to their own local towns to shop.
This provided an added bonus to hard-pressed retailers and brought about local trading that many hope will now stick.
Margaret Corscadden runs the Twenty Six, an eclectic mix gift store in Kenyon Street, Nenagh, Co Tipperary.
She said while retailers are always facing challenges, she is very hopeful the shop local habit will remain.
"If Covid taught us anything, it is about the value of community, people helping and supporting one another and staying and living and shopping in their own communities and I would hope that we would stick with these core values. If we don't then we won't have those communities for the long term.
"I think as a nation we really do need to support small independent retailers, and the experience of Covid has taught us that people do respect the local retailer and the work they do," she said.
Edel Kennedy runs a women's clothes store in the town and said she is really hopeful the shop local ethos continues.
"People have been very supportive businesswise here in Nenagh during the pandemic. People suddenly realised what we have on our doorstep and that it wasn't necessary to travel to bigger locations or cities or shopping centres to do their shopping," she said.
And there is an added bonus to this town and other provincial towns like it across the country in the long term - that people are now capitalising on the opportunities that hybrid work can bring.
People are making the life-changing decision to move away from Dublin and other cities to live and work perhaps in their original county or home, or in a quieter place in the country, which can offer better opportunities for families.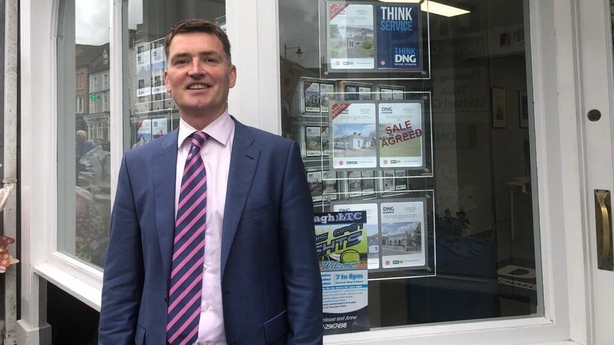 Auctioneer Michael Gilmartin said they are very busy on this front at present with inquiries about properties for sale around Nenagh. He said the hybrid work model has made people realise it is possible to work away from Dublin.
This is a view endorsed by delicatessen and coffee shop owner Peter Ward, who has run Country Choice in Nenagh for the past 30 years. Mr Ward said that people realised how important local communities are.
"The town became a massive destination for people because of the independent traders and those supplying good quality family food, which was appreciated by all.
"Since then a lot of people have made a life choice to come back and live and work here in this town, and that is the best thing that has happened here in the past 30 years.
"They are not just coming here to shop and driving away, but their decision to live here is a massive endorsement for the future I think," he said.