A community group in Co Mayo has unveiled an initiative in Castlebar to campaign for what it calls the dignified reburial of the Tuam Babies in Galway.
Following a public appeal, 796 dolls were collected to serve as a visual reminder of the babies interred in an unmarked grave in Tuam Mother-and-Baby Home.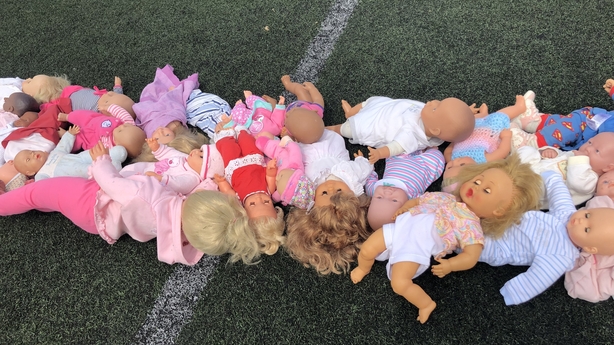 Castlebar Celtic football club gave the use of their grounds to lend support to the project, which is called 'Little Doll of Love'.
It is the culmination of months of collecting and gathering.
The initiative was headed up by Amanda Larkin and Valerie Jennings, who put a call out to the public for old pre-loved children's dolls.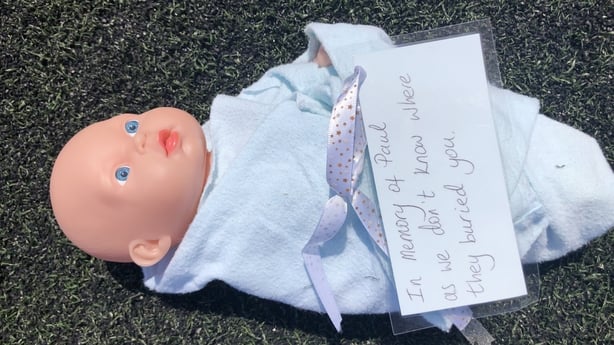 Amanda Larkin explained the motivation behind the initiative.
"The laying out of the dolls on the pitch is a simple but poignant reminder of the number of babies we're talking about.
"These 796 dolls are a symbolic representation of these infants who never had a voice. This is a way to have an image in their honour, a way to be recognised."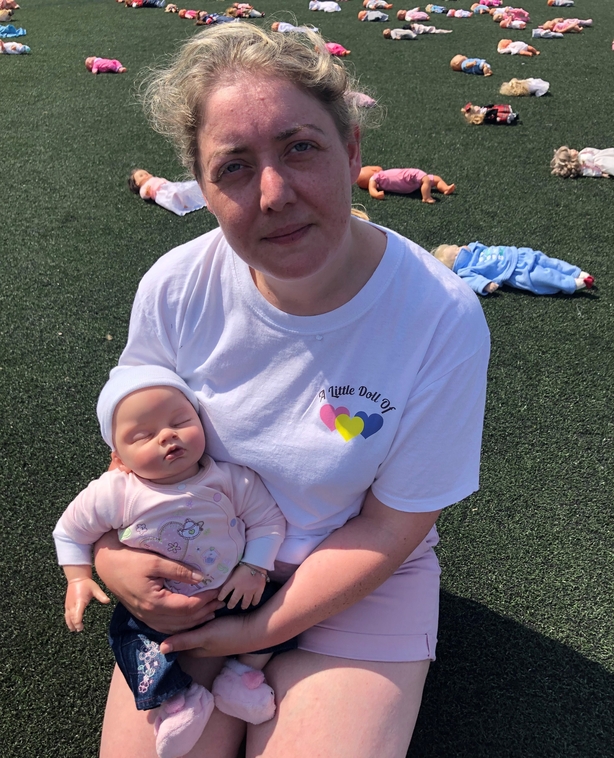 The public appeal specified dolls that are "baby-sized". Hundreds of the donations came with personal stories.
Amanda's involvement is inspired by her own family experience.
"My mother Carmel was born at the Tuam mother-and-baby home in 1949 and spent over five years there before being boarded out to Mayo. It was only in recent years that she learned who her biological mother was and says she still carries a lot of heartache.
"These dolls represent the Tuam babies but there at least 9,000 unmarked graves in mother and baby homes in Ireland. We want justice for all of them."
Valerie Jennings said these institutions should never have been called homes.
"This is a dark shameful period of our past and the time has come now to honour these precious babies and afford them the dignity they deserve," she said.
A community group in Co Mayo has unveiled an initiative in Castlebar to campaign for what it calls the dignified reburial of the Tuam Babies in Galway. | https://t.co/5hl9zRsD3p pic.twitter.com/JGuz8Rsmf9

— RTÉ News (@rtenews) July 19, 2021
Seosamh O'Maolchroin was born in the Tuam Mother-and-Baby Home in 1952. His mother was just 16 years old. When he turned 15 months, she was sent to Dublin to work in the Magdalene Laundries in Dublin.
He said: "I was reunited with my mother shortly before she died. She never wanted to give me up for adoption but she had no say whatsoever.
"It's emotional here today looking at the dolls and thinking about all the babies buried in unmarked graves.
"But I'm not a victim, I'm a survivor. I pray to God that they get a dignified reburial along with all the other poor souls the length and breadth of the country."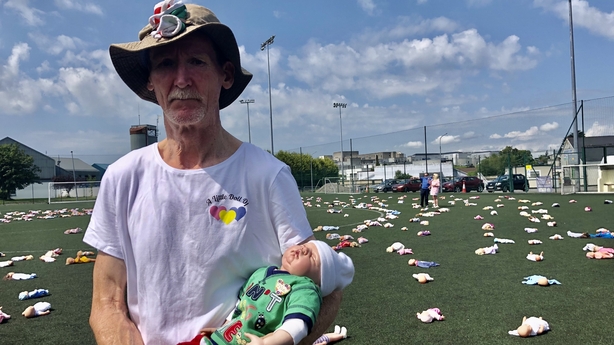 A Burials Bill has now been published and is with Minister for Children Roderic O'Gorman.
Local Tuam historian Catherine Corless said this is a welcome step.
She said: "This is a great leap forward in the long wait to exhume the burials at Tuam and is very much welcomed especially seeing that the joint committee of the Oireachtas have made an effort to listen to survivors and family members in their recommendations, which emphasise making the bill survivor-led.
"The committee's scrutiny of the bill with its 65 recommendations is a very clear, important and accessible read.
"We hope that Minister O'Gorman will integrate these recommendations as quickly as possible to pass this bill so that excavation can take place speedily."