There was a sort of homecoming in Co Tipperary for Belarus opposition leader Svetlana Tikhanovskaya, who is in Ireland for a short visit.
Ms Tikhanovskaya came to worldwide attention after her husband Sergei was arrested last year and she took up his role as the main opponent to President Alexander Lukashenko.
Last year's presidential election in Belarus was widely believed to have been democratically "won" by Ms Tikhanovskaya, but Mr Lukashenko claimed victory and held onto power and the office of president he has occupied since 1994.
Ms Tikhanovskaya is in exile with her two children in Lithuania, while her husband remains in prison.
However, she has been known in Roscrea since the 1990s, when she started to travel to the town as part of a "welcome" project designed to give children affected by the Chernobyl nuclear disaster a break.
She came to Ireland for a month at a time for many summers after that and, when she became older, acted as an interpreter for the younger visitors, until her last trip to Ireland 18 years ago.
She is back in Ireland to both drum up political support from the Government, and to visit old friends.
It was her first time seeing her Irish "family" - the Deanes - for 18 years, although they have been in regular contact via the internet, including Facetime, in the meantime.
It was an emotional reunion as she met Marian Deane and Henry Deane at their home.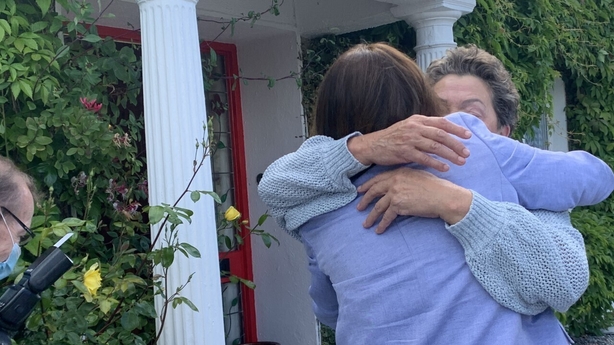 "I recognised everything," Ms Tikhanovskaya said shortly after her arrival in the town. "I noticed some new shops appeared, but it's as if it was a year ago," she said, before nominating "potato salad, egg salad" as a highlight of of her times in Ireland.
"You can't describe these feelings. These people were always in my heart, but when you came back here after 18 years, as I say as if nothing has happened."
Marian Deane recalled welcoming the children from Chernobyl.
"Svetla just happened to be one of the children that came to us, but then we got very fond of Svetla and she came back year after year after year. When she got older, then, she came back as an interpreter and we had her for about 10 years, so it was absolutely fantastic."
She and husband Henry were "very, very excited" today and also "so proud of her" because of all she has done for the people in Belarus.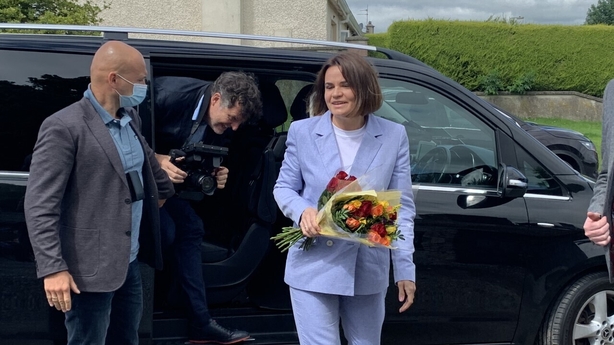 "She was a very, very kind and caring person, a very intelligent girl," Marian added. "She looked after all the smaller children that came, they came to her when they were homesick. She was just special. She was always a special girl."
Henry Deane said they all had "great craic" during the time that the children from Belarus, including Ms
Tikhanovskaya, stayed in Roscrea with local families as part of the Roscrea Lifeline project.
They have, in recent years, been admiring her work for the democratic movement in Belarus, he said.
"Her wish and ours is the same, her wish is that she would replace Lukashenko and form a proper government as soon as possible, to end the strikes, end the sanctions, end all the problems there. The sooner that that happens the better."
Today is a "wonderful day," he said. "We keep in constant contact on facetime, but it's not the same thing. We can't hug, you know?"
After spending much of today in Roscrea with the Deanes, tomorrow Ms Tikhanovska will meet Irish officials, and Minister for Foreign Affairs Simon Coveney, to discuss the ongoing situation in Belarus.
"For many years we've had a very close relationship between both countries," she said, "because after Chernobyl Ireland was one of the countries that adopted children from Belarus, and this connection hasn't closed…
"Of course Ireland is very vocal about us and we will raise some more questions with the Irish Government about how else Ireland can be helpful."
A spokesperson for Minister Coveney said he is looking forward to catching up with Ms Tikhanovskaya and that they have much to discuss.
The Lukashenko regime came to attention again last May when a Ryanair flight was ordered to land in Minsk to enable the Belarus authorities arrest a dissident journalist and his partner.
Meanwhile, Belarusian security police searched offices and homes of lawyers and human rights activists today detaining at least 10 people.
Thomas Byrne, Minister for European Affairs, said he strongly condemned the "wide-scale detentions of human rights defenders, activists and journalists in Belarus today."