The Minister for Finance has told an Oireachtas committee that homeowners in Donegal and Mayo affected by pyrite and mica will get a six year exemption from the Local Property Tax.
Paschal Donohoe told the Joint Committee on Finance, Public Expenditure and Reform and Taoiseach that exemptions are being closed for first time buyers in ghost estates, and that he will "phase out" the exemption for pyrite-damaged properties.
However, in light of the "massive anxiety" homeowners are struggling with, those in Donegal and Mayo will be given a temporary exemption.
He was responding to Sinn Féin Finance Spokesperson Pearse Doherty, who also asked whether those who previously paid the tax would be rebated, and whether a costly engineer's report would be needed to qualify.
The minister said qualification will be given to those properties eligible for the redress scheme and are being remediated.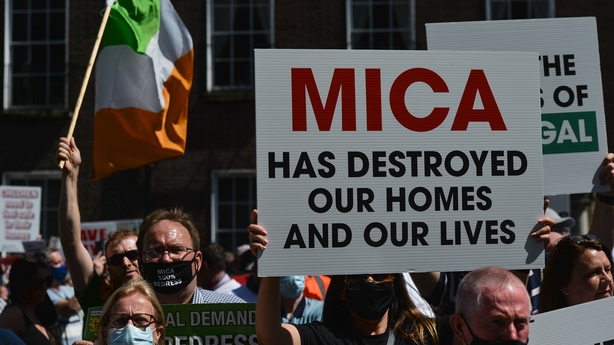 Minister Donohoe told the committee that he will ensure that no county will be worse off because of the changes to the LPT. He said he will be "primarily guided" by Housing Minister Daragh O'Brien in this regard, who has a review underway "as we speak".
The minister said he will maintain the Equalisation Fund, which will in future be funded through the Exchequer, with that new arrangement being put in place "over a two year" period starting in 2023.
The fund amounted to €133 million last year and benefitted 20 counties, Deputy Doherty said.
The committee is conducting pre-legislative scrutiny of the Local Property Tax Bill, which the minister hopes to have enacted before the summer recess, to enable Revenue to implement it before the next valuation date on 1 November.
The most significant change it includes is a revised method for calculating LPT, he said.
"A key challenge...is the significant variation" and "the uneven pace" in residential properties since the original valuation in 2013.