Members of the public are being asked to have their say in creating a significantly improved bus network for Cork city and surrounding areas.
Public consultations will be held as part of the National Transport Authority's (NTA) BusConnects Cork programme.
The consultations come as the NTA launches the Cork Bus Network Redesign Choices Report.
This report hopes to address issues such as transport demand in Cork, the structure of the existing bus network and how it can best meet the needs of a growing city.
BusConnects Cork aims to transform the current system through nine different measures.
The main two measures are redesigning the existing bus network and building a new network of bus corridors and cycle lanes.
The public consultations will solely be based on redesigning the current networks.
The Cork Metropolitan Area Transport Strategy, developed in connection with Cork City Council and Cork County Council, hopes to increase the number of people using public transport in Cork fourfold by 2040.
Today the NTA launches an online consultation on the redesign of the bus network in #BusConnectsCork. We want to hear from the people of Cork to help shape the future of the Bus Network in Cork City. See more info here: https://t.co/qbyNLFpi7c pic.twitter.com/QgFkJLjVPd

— BusConnects (@BusConnects) July 1, 2021
Minister for Transport Eamon Ryan said Cork is already showing leadership in terms of pedestrianisation and active travel.
"Cork will transform the area's bus network and make travelling on public transport a more convenient and sustainable option," he said.
"This new network along with the planned bus corridors and cycle lanes along with a zero-emission bus fleet, will help connect the city's communities and ease congestion."
Today's report is the first step in moving towards a modern, inclusive and sustainable public transport network, according to NTA Chief Executive Anne Graham.
"With the city set to grow by up to 60% in the next two decades, we need to design a bus network that improves access to sustainable public transport options," she said.
"The publication of the Choices Report today offers the opportunity to reshape the bus network around the future needs of a vibrant city and its people."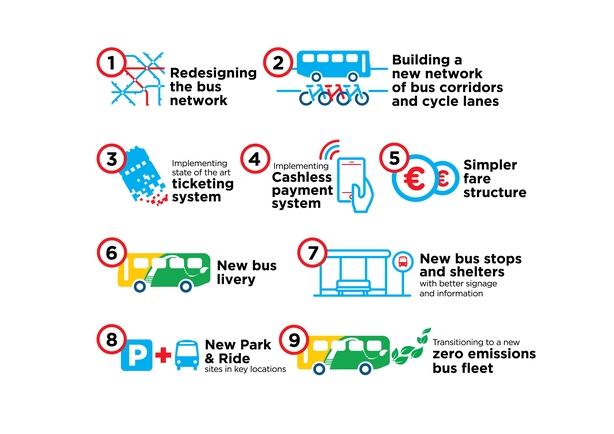 The infrastructure element of BusConnects Cork will be addressed in the coming months.
Online consultations will run from today until 21 July. Those interested can also register for a virtual public meeting, which will be held on 6 July.
The first new Dublin bus route redesigned as part of the Bus Connects programme came into service last weekend.
Route H connects Howth, Malahide and Portmarnock with a high frequency service to the city centre.
It is the first of eight main spines, which will connect with 12 orbital routes around the network.
The original route redesign provoked 70,000 submissions from commuters concerned about loss of minor routes and possible privatisation.