Údarás na Gaeltachta, the regional authority responsible for the economic, social and cultural development of the Gaeltacht, launched a strategic five year plan in the Donegal Gaeltacht this morning.
It is an ambitious plan that aims to embed entrepreneurship in Gaeltacht communities, grow employment to 9,000 and ensure vibrant sustainable communities into the future where Irish is the primary language.
It comes at a critical juncture for Údarás, as it faces challenges like a worrying decline in the Irish language in the Gaeltacht alongside positive opportunities such as the trend towards remote working.
The first stop at 8.30am for the Údarás team and Minister of State for the Gaeltacht Jack Chambers was ProAmpack Donegal.
Formerly known as RAP, the company was acquired earlier this year by a major US brand and just recently won a multi-million-euro contract to supply C&D Pet Foods with packaging right across Europe.
For the Operations Manager at ProAmpack, the location of the company in Gaoth Dobhair is an advantage, rather than a disadvantage, as some might think.
John McDermott said the company has grown from four employees to over 200 in 23 years and it is actively recruiting now for maintenance and production roles.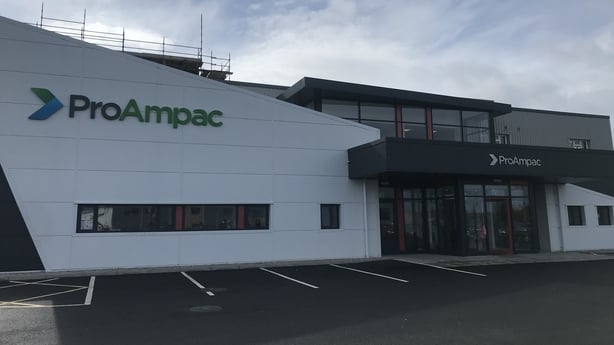 He credits the success of the company to a loyal and innovative workforce combined with the support of Údarás from the start.
Next stop was gteic, an impressive innovation and digital hub within the Údarás na Gaeltachta business park in Gaoth Dobhair.
It's one of a network of hubs being developed in Gaeltacht areas with high speed broadband and everything from hot desks and offices to literally the kitchen sink.
When Dr Frances Morton and her partner decided to move from Belfast to Donegal during lockdown to be closer to family and have a better quality of life, the gteic was the perfect place for her to continue working in her role in education.
She said being in Donegal has been the perfect antidote to the pandemic with beautiful beaches and walks and a strong sense of community.
A Glaswegian, Dr Morton did not have a word of Irish, but said that has not been a barrier.
She has enjoyed learning the language and has felt supported locally and felt more a part of the community for embracing the Gaeltacht way of life.
Launching the strategy in the gteic, Chairperson of Údarás na Gaeltachta, Anna Ní Ghallchair, acknowledged the worrying decline in the language.
The average number of daily speakers in the Gaeltacht is a little over 25% - although it is higher at around 37% in Donegal.
We need your consent to load this YouTube contentWe use YouTube to manage extra content that can set cookies on your device and collect data about your activity. Please review their details and accept them to load the content.Manage Preferences
The language is not dead, she said, but it will always be a battle to keep it alive and this strategy incorporates language planning which she described as a "movement being embraced by young and old".
In the past, opportunities were limited and emigration or migration to Dublin and other cities was the path followed by many young people in Gaeltacht areas.
Now, Ms Ní Ghallchair said, there are very many highly educated and skilled young people and there are opportunities for them to work in a gteic in Gaoth Dobhair rather than a flat in Dublin.
Success stories like those of ProAmpack Donegal and individuals like Dr Frances Morton and others "will be built on through this strategic plan" which includes training and funding, business supports and cultural goals.
Minister Jack Chambers said the strategy sends out a strong signal to young people that there will be a huge amount of opportunities in the Gaeltacht in the long term and that's something he wants to support.
The strategy has a focus on the diaspora and a call to come home as well as strong climate change goals.
The ultimate aim is a new era for Gaeltacht communities in Donegal, Galway, Mayo, Kerry, Cork, Meath and Waterford.
The vision is to make these locations attractive and vibrant places to live and work but also somewhere for other people to visit and improve their Irish with new tourism packages for Irish language holidays.
€3.4m Irish language planning fund approved
A total of €3,404,500 has been approved as a 2021 Irish language planning allowance.
Minister for the Gaeltacht Catherine Martin and Minister of State Jack Chambers, confirmed the fund last night.
It will be worth €3.4m in total for Údarás na Gaeltachta and Foras na Gaeilge to maintain the operation of the language planning process in the current year.
Funding of €2,751,000 has been approved for Údarás na Gaeltachta and €653,500 for Foras na Gaeilge to enable them to advance the language planning process as it relates to them respectively.
These are an increase on the sums of €2,327,000 for Údarás na Gaeltachta and €356,000 for Foras na Gaeilge approved last year.