A new exhibition featuring hundreds of glass potatoes to represent the suffering caused by the famine has opened at Strokestown Park in Co Roscommon.
The installation of 1,845 hand-blown glass potatoes is called '1845: Memento Mori' and took 15 years to complete.
The work is being presented outdoors at the historical gazebo tower within the walled gardens of The National Famine Museum at Strokestown Park until 10 July.
The exhibition, created by Seattle-based Irish artist Paula Stokes, kicks off a multi-venue tour over the next few years.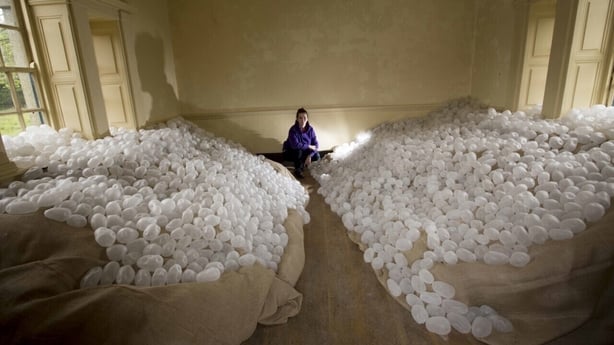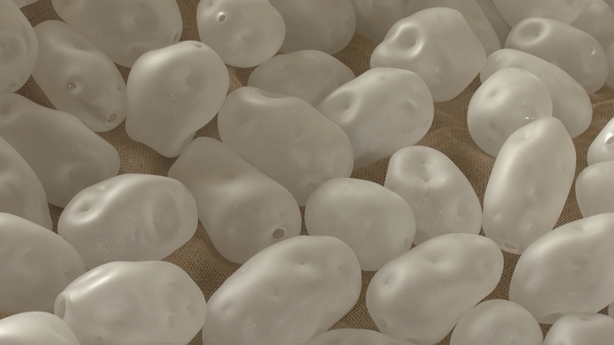 1845 is significant as it references the year that the potato blight came to Ireland, marking the beginning of a period of mass starvation, disease, and emigration.
Dr Emma O'Toole, Collections and Interpretation Manager at the Irish Heritage Trust, which cares for and manages the property, said it is fitting that the first venue for the Irish artist on Irish soil is at the famine museum.
"The story of the Great Irish Famine of the 1840s has particular resonance at Strokestown. Tenants on the estate were hugely impacted, many emigrated or died, and a previous owner of the house and local landlord, Major Denis Mahon was assassinated in November 1847 at the height of the famine," she added.
Paula Stokes reflects on her own history as an immigrant to examine historical events that have shaped the present.
"In creating this work, I honour my Irish heritage and culture, and I'm thrilled to be bringing this installation to my home country after 15 years of working on the project," she said.
She believes '1845: Memento Mori' will resonate with a wide variety of audiences as it "reminds us of our own fragile humanity and serves as a connection between shared human experiences in the past and present".