It's been a quiet year for one of the best known matchmaking festivals in the world.
The Covid-19 pandemic called a halt to the start of many love stories at Lisdoonvarna in north Clare.
The town hosts its annual matchmaking festival for a month in September, which has in the past attracted over 60,000 visitors to the area located close to the Burren.
But the release of a new Hollywood movie is helping forge huge new interest in the festival.
Entitled 'As luck would have it', the romantic comedy stars Irish actor Allen Leech of Downton Abbey fame and is loosely based around the matchmaking phenomenon.
Inquiries from across the world have now been flooding in to the festival's website and across their social media sites asking about the festival and when it is being staged again.
The film has brought Lisdoonvarna's reputation for successful love matches back into vogue.
And while the film was not actually shot in the village, it has led to huge renewed interest in the matchmaking tradition.
It was filmed along the Cliffs of Moher, as well as Howth in Dublin and in Glencullen in the Dublin mountains.
It features plenty of Irish staple images, with Irish dancing, hurling matches and knitting classes, showcasing some of Ireland's spectacular scenery.
We need your consent to load this rte-player contentWe use rte-player to manage extra content that can set cookies on your device and collect data about your activity. Please review their details and accept them to load the content.Manage Preferences
Julie Carr, who heads up promotions and marketing for the famous Lisdoonvarna festival, said the response to the movie has been fantastic.
"We've been inundated with calls, emails and queries about the festival, particularly on our Facebook page which already has 25,000 friends, with people talking about the film, about travelling to Ireland and about Lisdoonvarna and asking when it is taking place again.
"One of the funniest aspects is that many people did not even believe the matchmaking festival was real!
"They thought it was made up because of the movie, but when they google 'matchmaking', Lisdoonvarna comes up and they are delighted to hear that yes it is very real alright," she said.
The impact of the movie is not a surprise to veteran and world renowned matchmaker extraordinaire Willie Daly, who has been matchmaking for more than half a century.
He has a famous file of successful matches, which he regularly displays with pride.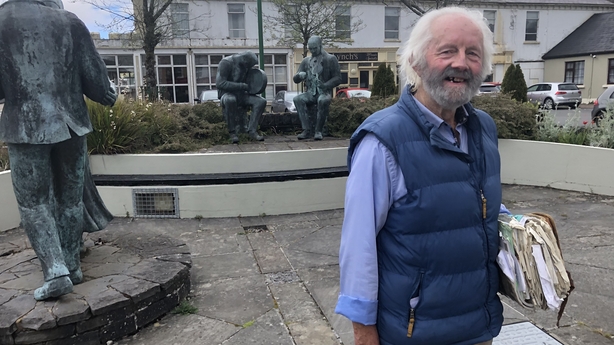 And despite the impact of Covid, for Willie love still makes the world go around.
"I'm getting letters and calls and emails from places across the world, from Bali and from places I cannot even pronounce, asking about setting up a match. No matter what Covid has done, people are still looking for love and this is the only place in the world where this unique festival goes on for the entire month of September with music and dancing in hotels and pubs every day for the month."
It is hoped they can go ahead with the festival this year, but of course it all depends on the health restrictions which prevail at the time.
Julie Carr says they are watching events in the UK closely, in particular how pilot outdoor festivals are being managed.
"We hope to be able to make a decision in July about whether it can go ahead, but we sincerely hope it can, and welcome all those new Lisdoonvarna matchmaking fans", Julie said.