A new purpose-built residential space which will eventually house eight people who have survived serious brain injuries has been officially opened in Waterford.
Cloch Cora - Stepping Stone - has been developed by Acquired Brain Injury Ireland to provide supported living for residents who need ongoing rehabilitation services while enjoying the benefits of a "home from home".
Located in the Williamstown area of Waterford, it is the first of its kind in the city and one of 16 provided around the country by ABII.
"Ideally there would be houses like this in every county in the country because the need is there," interim lead local services manager with ABII, Evelyn Norton, told RTÉ News today.
"We see that from the people we work with, over a thousand people and their families. This type of specialist, bespoke, state-of-the-art service should be made available to everyone in the country."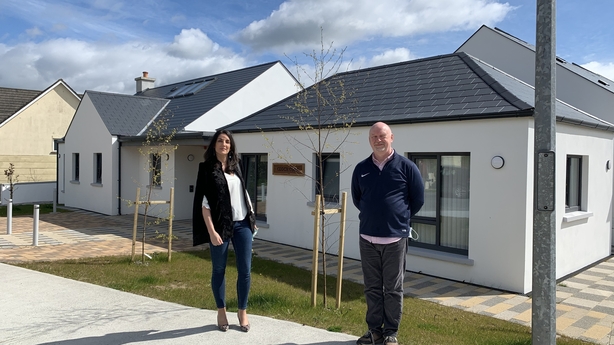 Cloch Cora consists of one large residential unit with the potential to accommodate five people individually, as well as three separate high-spec units aimed at providing "step-up" living for people as a transition back to living in the community.
The entire development was designed by Dungarvan-based architect Michael Regan of E-Project Chartered Architects and developed by ABII in partnership with the Anvers Housing Association, with funding from Waterford City and County Council and the Department of Housing and Local Government.
"This new residence," Mayor of Waterford Cllr Damien Geoghegan said, "is an excellent example of the work we are doing in Waterford to provide homes for those who need them most".
"The development at Cloch Cora has been built to the highest standards of accessibility and sustainability. It is flexible and adaptable to suit the specific requirements of the residents, while also integrating into the existing architecture of the estate."
Local services manager with ABII, Rob Martin, said providing independence for the residents is a key focus for the service.
"Already we've seen a huge improvement in the lads' mood and engagement with the community since they've moved here. Because what they can do now is they can actually access a lot more amenities, they can go to the shops locally, they can access walks and stuff like that."
One of the residents, Chris O'Brien, who suffered a brain injury in a fall 20 years ago at the age of 21, praised the new residence as "a real nice house, plenty of space, rooms, showers in very good condition, plenty of space in the garden to come out and have a cup of tea or a smoke or whatever you like".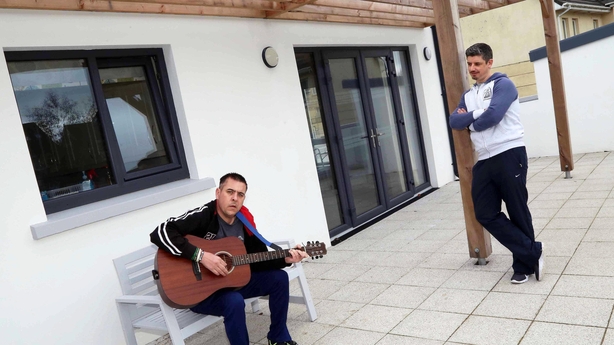 It is estimated that about 19,000 people in Ireland acquire a brain injury each year, through a fall, stroke, road crash, infection, or another way, and this can result in life-altering changes.
"Brain injury is a hidden phenomenon in our society," chief-executive of Acquired Brain Injury Ireland, Barbara O'Connell, said, "and nobody ever thinks it will happen to them. But it happens to 35 people in this country every day, often leaving with a chronic and ongoing condition that can affect their lives and those of their family for months and years after the initial injury".