Some farmers mind their animals like eggs. When I meet Seán Ó Murchú on a cold crisp January morning he is throwing a generous gabhál of hay to his precious cows.
He rests on a gate and admires them as they munch on the gift of last Autumn's meadow. 
His animals are warm and comfortable, sheltered from the stinging winds of winter that whip down off the mountain. Seán is also taking shelter, cocooning from the threat of the virus. 
"I stay at home and keep to myself, because you won't find it written across people's foreheads at all if they are carrying this virus."
Seán lives alone in the west Kerry Gaeltacht, sustained by the small mountainside farm which has been worked by his people for generations.
A number of years ago he received a life-saving kidney transplant.
He is keenly aware of his vulnerability. His brother does all the shopping for him and brings him anything else he might need. 
"I'm on all kinds of medication. I have to be very careful." 
"I hear people saying the virus mightn't be that bad. If anyone says this is a harmless disease they are mistaken. If they spent a half an hour in hospital with it, they would quickly realise this is a very serious illness.
"It's a very unnatural thing to be doing, trying to stay away from people, especially neighbours, that's the worst part. I know they are good people but I have to be mind myself."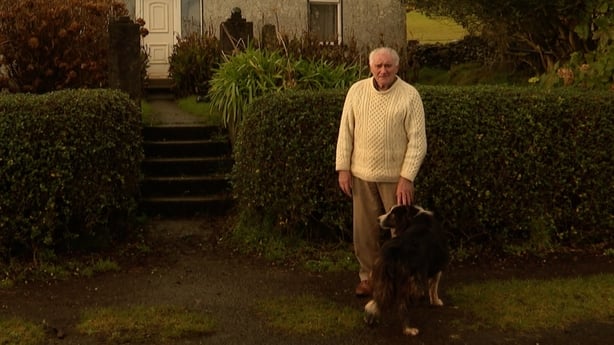 Across the mountain, Mícheál 'Toose' Mac Gearailt sits alone at his kitchen table, buttering a homemade scone as he waits for the tea to draw in the pot.
He pulls a chunk off the scone and throws it to his only companion, his loyal sheep dog Molaga.
'Toose' is pushing on 80 now. He realises he is in the vulnerable category, but he has found cocooning difficult.
"I miss the company and the conversation. I miss being amongst the people. There's healing in that alone.
"We were fortunate during the first lockdown that the weather was fine. Nowadays I can have fog down to my door. That's the closest I ever get to depression. Thankfully, I've escaped it so far. But I find it very difficult."
A few miles back the road, Pádraig Ó Scanláin is also living alone through lockdown.
He is busy digging in the garden, the musty smell of freshly upturned earth fills the air as he prepares the ground for the potatoes he will set in a couple of weeks time.
His job normally takes him all over Europe, but with the onset of the pandemic he has returned to the family farm in Dún Chaoin, overlooking the Blasket Islands.
Here, he immerses himself in the duties once carried out by his late father.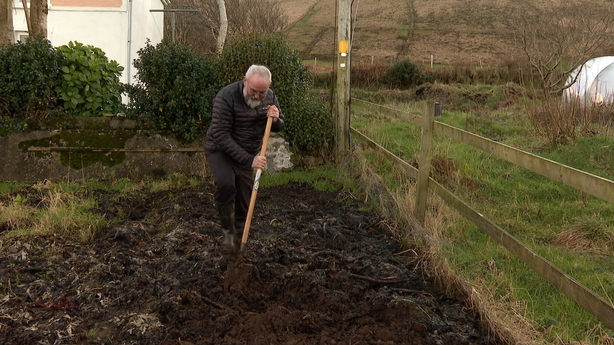 "I think if you are at peace with yourself you can endure anything. I don't feel the loneliness.
"I'm not seeking anything from the outside world. I have everything I need to enjoy life. I can find it here. I have plenty to do here to keep me occupied."
Pádraig believes lockdown has helped him reconnect with home. He has been busy refurbishing the old family farmhouse, tidying up around the yard and tending to his flock of sheep.
"We have to be patient. My advice to people who might be feeling the strain of lockdown is to embrace it. Enjoy it. We are slipping in to Spring. It's a beautiful time of the year."
The wild and rugged nature of the west Kerry landscape, often lashed by Atlantic storms, means people here are accustomed to being physically isolated, especially in the dark depths of winter.
There is an innate acceptance and ability to endure isolation. 
However, the restrictions preventing gatherings at crucial meeting places such as pubs, churches, marts, football matches and wakes has tested that resilience, and presents a tremendous challenge for those living alone.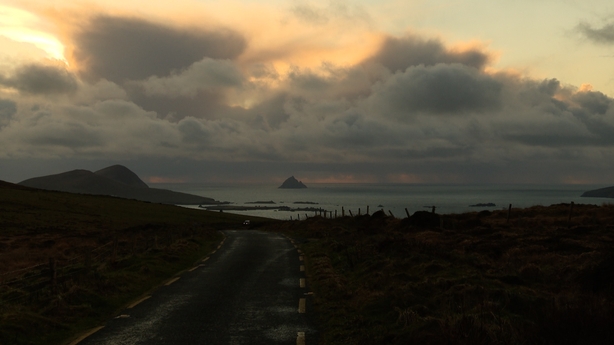 Nonetheless, an invisible cloak of kinship and neighbourliness protects, cares for and ensures the people of these parts remain connected. Toose Mac Gearailt says he is ready for the long haul:
"I'm used to living on my own, for years. And then I have great neighbours. The likes of Joan Moran back the road calling to me with homemade brown bread. I'm managing fine." 
"This will pass. You need to keep motoring. Keep busy. Knock back a couple of shots of whiskey or poitín. Go to bed early. And don't get up 'til midday," he adds with a hearty laugh.
Back in Seán Ó Murchú's shed, the bachelor farmer is gently helping a young calf to suckle its mother. Despite the solitude and isolation of lockdown, he also finds spiritual sustenance and hope in nature. 
"I got up the last morning and one of my cows had calved, this fine little calf standing before me. That's good for the soul. New Life. It lifts the spirits. Covid can never rob us of that."