Hundreds of meals are handed out to the homeless and those living in extreme poverty in Dublin every Friday night reports Della Kilroy.
The volunteer-led organisation Muslim Sisters of Éire offers hot food and essential items outside the GPO. Tables are filled with home-cooked meals, pastries, yoghurts, and water.
They also have bags with essential supplies for people sleeping rough during the pandemic - including masks, hand sanitisers, gloves, and sleeping bags.
But like many volunteer organisations, the sisters have been impacted by the latest Covid spike and several of their team have had the illness or were a close contact of a positive case.
They had to close for two weeks but returned last Friday night. Lorraine O'Connor is the chairperson of the charity and she was there to co-ordinate the delivery of hundreds of meals. 
"Our women are from all different parts of the world, so the menu includes lots of different cuisines. We used to serve around 200 to 250 meals a week, now we are going up to 450.
"I have families ringing me up saying they have no food left - there is sheer desperation."
Lorraine said she has been doing outreach programmes along Dublin's canals for the past five nights. "People are freezing cold in their tents. One woman told me, 'pray that I will be alive in the morning'."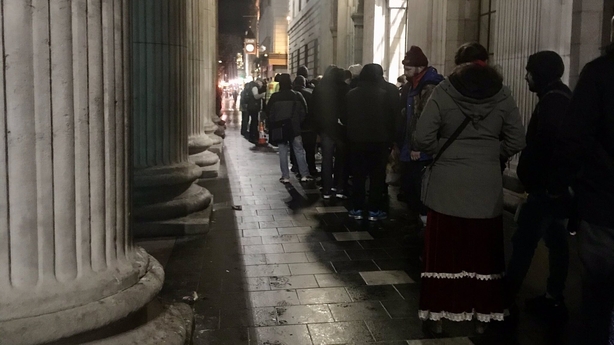 Outside the GPO, among those waiting for food were families, parents with babies in prams, men and women on their own and some children queued up twice to get some dishes to bring home.
At one stage, the queue was so long it went all the way around to Henry Street so it was very hard for people to keep a safe distance from each other. 
Most of the people there were homeless. One woman told me: "Fair play to them, only for them we'd be starving."
Several people were staying in hostels. "This hot deal means everything to me, I am seven years' homeless," another man told me.
"We would not be here, we would be dead without these services."
There were at least 50 homeless deaths in Dublin last year. A recent count by the Simon Community noted 139 people sleeping rough in the city.
An extremely sad day at our soup run. The desperation is indescribable. The queue went all the way down to Henry Street. We were inundated by the donations tonight, more than 400 hot meals, fruits, pastries, sandwiches, chocolates, cakes, drinks etc.#forgottenpeople #poverty pic.twitter.com/OF5LqMbzBp

— Muslim Sisters of Eire (@Msoe_Dublin) January 22, 2021
While the Government's eviction moratorium looks to have helped reduce family homelessness, the level of single adult homelessness has stayed static.
Rough sleepers are supposed to be able to get an emergency hostel bed by ringing a freephone number but a recent investigation by RTÉ found that people are sometimes refused entry, despite pledges that nobody would be turned away. 
One man told me he has been homeless since his mother died three years ago. He has been sleeping in a tent in a Dublin park.
"I woke up this morning and I was drenched. It is baltic. I won't go into a hostel because of the drugs. I am easily led.
"Three of my friends died on the street in the past month. So it's heaven to get this hot food."