The General Manager of University Hospital Waterford has appealed to the public to abide by public health restrictions after the hospital saw a tenfold increase in Covid-19 cases since December.
University Hospital Waterford had 12 confirmed cases of the virus in mid-December but numbers have been shooting up and reached 123 on Thursday, with at least 25 more suspected cases.
Management at the hospital had designated the recently-built Dunmore Wing, a separate building close to the main building, as its Covid-19 pathway.
Staff have used the isolation rooms there as a way of keeping coronavirus patients separate from other patients.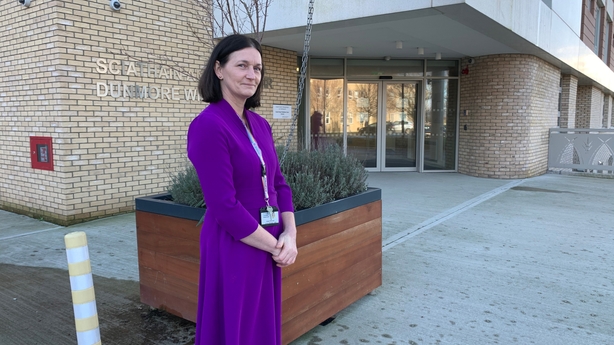 However, the 90-bed unit is now completely full with two wards in the main hospital now also being used for virus cases.
"Year to date, 2021, we've actually had more Covid positive cases than we had in the entirety of 2020," general manager Grace Rothwell told RTÉ News.
"From the first wave that would very much have impacted much more significantly in Dublin and some of the other counties, that appears in the third wave to be hitting us here in Waterford now."
The recent surge has caused shock in the area.
"We never foresaw that we would actually have numbers that we would have to go back into the main hospital, but the Dunmore Wing is now full," the manager said.
The hospital's crisis management team meets regularly and all admissions to the hospital are now being tested.
Meanwhile, more than 200 staff members are currently off work due to testing positive for the virus or for being designated as close contacts.
"I have to acknowledge the resilience and dedication of the staff," she said.
"Waterford is currently the third highest county in terms of the cumulative incidence per 100,000 of population," Ms Rothwell pointed out.
However, she added that there is hope because positive testing has reduced slightly in recent days while the numbers in critical care have remained relatively stable.
"We're managing and we have managed and we'll continue to manage," she said.
"People need to stay at home. They need to minimise their contacts. Hand hygiene is key, cough and respiratory etiquette is key," Ms Rothwell said.
"If you feel unwell, seek medical attention and if people come to the hospital, declare their social contacts. Make it known to hospital staff whom you've been in contact with. That's very important to enable us to identify Covid patients correctly and to ensure that we can isolate those patients," she added.
The Tramore/Waterford City West area has had one of the highest incidences of Covid-19 in the country in recent weeks, running at 2,789 cases per 100,000 of population, which is more than twice the national average.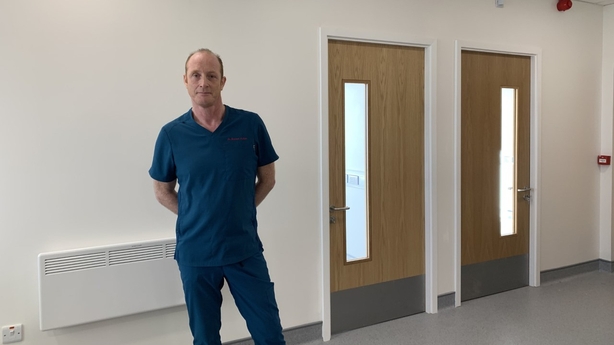 Dr Dermot Nolan of the Tramore Medical Centre said they've had "a tsunami" of Covid-19 cases during the third wave.
"Rates were up to one in 10 people locally," he said.
He said the rise is due to increased socialisation and travel into the area.
"I feel that this variant that we saw in the third wave was much more transmissible than the previous variants that were going around," he said.
"There was more socialisation, more mixing, I think the mixed message of whether you were allowed mix or not, people thought they were out of it, out of the wave, the levels had been lifted and there was more license to meet with people and we paid the price for that here," Dr Nolan added.
He said there is "a fear" among elderly people because they do not want to go into hospital.
"We're increasingly managing these patients as best we can in the community, which has put a big strain on our service but also on the patients who are suffering as well," he said.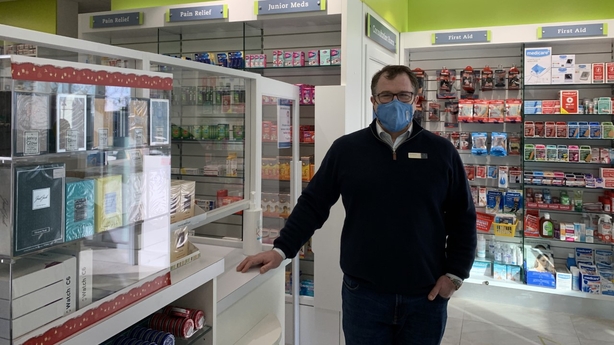 Paul Kenny of the Haven Pharmacy in Tramore said there has been "concern" in the area about the spike in cases, but said that if people stick to the regulations and guidelines, numbers will come down.
"We have got busier, particularly with telephone calls and fear of the dreaded Covid," he said.
"We have got busier by the nature that we have to do our work now as well. We've been open all through the pandemic, seeing people face to face with screens and PPE and so on, so it's a lot more work to conduct our business.
"Waterford had been so good for so long, where we wouldn't have known anybody with Covid, now we all know somebody."