A CD of recordings of the hugely-popular band leader Mick Delahunty believed to be lost has proven a big hit among fans, with donations pouring in from people who have been enjoying the rediscovered music.
Mick Del, as he was generally known, and his orchestra were a major draw to ballrooms and other venues nationwide, and across the UK and even in America, from the late 1940s onwards and the late Clonmel native has now been honoured by the reception accorded to the new CD.
The recordings were discovered on four vinyl records at the Tipperary Museum of Hidden History in Clonmel during a recent refurbishment project, having been donated in 2005 but unheard since they were made in 1948.
According to museum managing curator Marie McMahon, the tracks were never released to the public and were "forgotten about" until now.
"I thought this would be an ideal project, to digitalise these recordings," Ms McMahon told RTÉ News.
"During this period of time an older generation were cocooning, so I thought wouldn't this be a really nice thing to give back to the community and send these out free gratis to individuals who were interested in Mick Del."
She described the band leader, who died in 1992, as "a trailblazer" throughout his career.
The project saw the records being digitalised by Harry Bradshaw while images for the CD sleeve were provided by photographer and former RTÉ lighting cameraman Donal Wylde as well as the museum's own collection.
The editorial for the sleevenotes was by broadcaster and friend of Mick Del, Denis O'Sullivan, and funding was from Creative Ireland and Tipperary County Council, allowing over 700 CDs to be sent out, free of charge, to date.
While there is no price tag, many people who received the CD have donated money to Banna Chluain Meala, whose band hall is adjacent to the Tipperary Museum of Hidden History in Mick Delahunty Square in Clonmel.
"Mick Delahunty himself had a major interest in Clonmel's youth orchestras," Marie McMahon explained.
"We, in the museum, hope to fund the purchase of a number of brass instruments as a token of goodwill to strengthen our ties with Banna Chluain Meala."
In addition, some people who ordered the CD have sent in letters containing memories of attending a Mick Del dance and these will form part of the museum's archive.
Mary McLean, a daughter of the famous musician, said this week she's "delighted" with the venture.
"I couldn't get over it when Marie told me about these recordings, I was absolutely shocked," she said. "It's fabulous to have them."
She said she loves having any mementos of her father. "It's a great recording, very pleased with it now, I couldn't find fault with it at all. And I hope that Banna Chluain Meala might benefit from it as well."
Local couple Bernie and Noel Lonergan are among those who snapped up the CDs and have many memories of Mick Del and his music, as have their family members.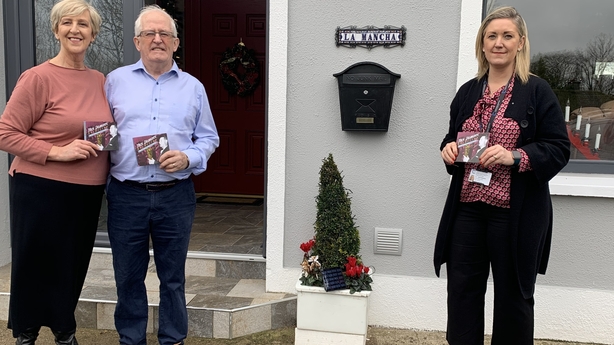 "Listening to my parents talking about the Mick Del dances and my sisters going to dances in the Collins Hall [in Clonmel]," Noel Lonergan recalled. "This is a fantastic tribute to Mick Del, and all the musicians who played with him down through the years, great musicians, a lot of them not around, some still around, but wonderful memories of them still with us and some of them no longer with us. this CD."
Bernie Lonergan said that Banna Chluain Meala are "so appreciate and so thankful" to those who have donated as a result of the project.
"I'm sure there were lots of weddings that came out of Mick Delahunty dances," Noel said. "That's the kind of music I was listening to when I was growing up. Mick was Ireland's answer to Glenn Miller, a great, great maestro, and we're proud of him."