An Athlone man, now living in Mullagh Co Cavan, who turned 100 has said he is looking forward to getting back out on the dance floor, once the Covid-19 pandemic ends.
"I'm great, just waiting to get out of this Covid-19 so I can go out and have a bit of a jump around and pick up someone," he laughed.
Arthur Saunders celebrated his special birthday surrounded by his family, friends and neighbours who organised a socially distanced drive-by party.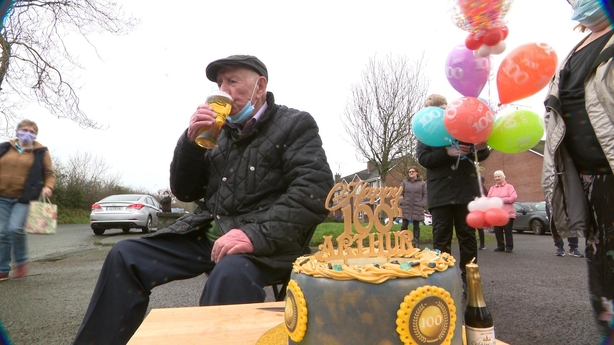 Dozens of cars passed outside his house, including the local gardaí to wish the 100-year-old well on his birthday.
"It was a great turnout. I know everyone of them and I'm not from Mullagh at all but I mixed in when I moved here," he explained.
Arthur Saunders spent 60 years of his life working and living in England. He met his wife Teresa in London. She was from Trim in Co Meath.
They went on to have two daughters and a son - Ann, Pauline and Derek. Arthur has seven grandchildren and seven great grandchildren.
"Arthur is a gentleman and the whole of Mullagh loves him, he's unbelievable"
The couple moved back to Ireland around 20 years ago but his wife Teresa sadly passed away a number of years ago.
Arthur now lives with his daughter Ann and is loved in the community of Mullagh.
"Arthur is a gentleman and the whole of Mullagh loves him, he's unbelievable," said his neighbour Liz Byrne.
Some of Arthur's family live in the UK and couldn't travel over to Ireland for the celebration, due to Covid-19 restrictions.
Those who live nearby wanted to organise a special celebration.
"I feel like I'm going to cry, it's nice that everyone else realises how much of a legend my Grandad is," said Julie Brady, his grand-daughter.
"I know a lot of teenagers my age might be inspired by sports stars but I'm inspired by him. He's just so humble. He's led a quiet life but an eventful one. I'm just so glad everyone is here to celebrate with him," said Jamie Brady, his great-grandson.
So has Arthur Saunders any advice for a long and happy life?
"Just live you life and don't hate anyone. Get on with people and socialise. I don't think I ever had a row or an argument with anyone in my life," he said
Once Covid-19 is gone, he says he is looking forward to a pint in his local pub.