Former Taoiseach Enda Kenny has said Joe Biden will have a strong role in addressing a gulf in understanding between the United States and Europe. 
Mr Kenny is a personal friend of Mr Biden's having met him on numerous occasions and as Taoiseach in 2016 welcomed him to Government Buildings. 
In an interview on Midwest Radio this afternoon, he emphasised the need for a new relationship between the United States and Europe, as well as with other countries around the world. 
Mr Kenny said there was an understanding that Joe Biden as President would run a different administration than Donald Trump. 
The former Taoiseach said he was filled with excitement, joy and gratitude at Mr Biden's victory. He expects him to have a "massive agenda of restoring some sort of respect for the United States around the world". 
That means dealing with the World Trade Organisation (WTO), the World Health Organization (WHO) and with other countries such as Russia and China, which have "a difficult relationship" with the US.
Mr Kenny remarked on the fact that there had been an enormous vote in the US election and suggested this "probably related to the fact that Trump had been very provocative on a number of issues", which really brought out the polarised peoples of America to vote".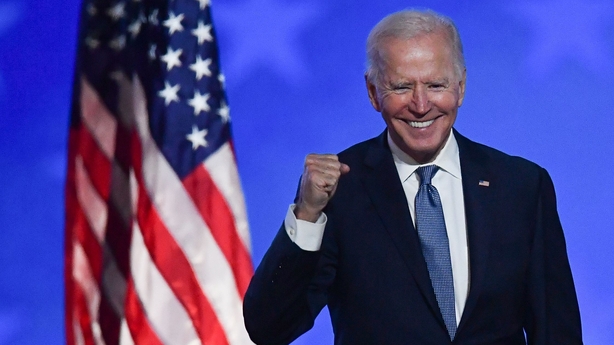 Mr Kenny said that he had never seen anyone as "genuinely thrilled and excited to express his Irishness", as Mr Biden was when he first met him in Washington in 2011. 
Recalling his visits to Mayo and Louth in recent years, he said Joe Biden was "not just a pseudo-Irishman but someone genuinely proud of his Irish roots". 
The former Taoiseach said after almost 50 years of public service, Mr Biden was now about to undertake his most significant role.
He said he would bring a range of experiences to bear, centred on the maxim that 'politics is always about people'. 
All-Ireland's outside of Dublin
During today's interview, the former Taoiseach also expressed a view that the GAA should stage All Ireland semi-finals and finals at a neutral venue, outside of Dublin. 
Enda Kenny said the Association deserved the utmost credit for efforts made to abide by public health regulations. 
But he said it was unfair to expect players and backroom staff to have to drive to GAA headquarters to play a crunch match in an empty stadium. 
Instead, he said, the games in question could be played in any number of provincial grounds, to give fairness to everybody. 
He said players from far flung counties should not be expected to have to drive to Dublin for a semi final or final.
He called on the GAA to give consideration to the idea of playing matches at neutral venues, equidistant from the competing counties.