Reading before going to bed can lead to improved sleep, new research suggests.
The findings follow a study involving almost 1,000 people from 43 countries which was overseen by the Health Research Board (HRB) based at NUI Galway. 
Last December, 991 people around the world agreed to take part in the trial.
They were divided into two randomly selected groups of pre-bedtime readers and those who would not read before turning out the light. 
The seven-day study found 42% of those who read found their sleep improved.
This compared with 28% in the non-reading cohort, who found they slept better without taking up a book.
On the other hand, 10% of those who did read and 16% of those who did not read reported a poorer night's rest.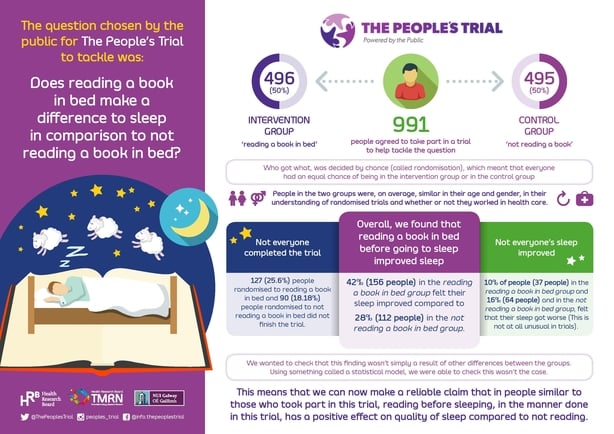 The decision to investigate the potential difference reading in bed had on sleep came as part of an innovative approach where study participants themselves oversee the entire research process.
They select the topic they want to investigate, develop a trial, carry out the study and then report on the findings.
The initiative aims to increase understanding of randomised research so people can see the importance of clinical trials for establishing useful information.
NUI Galway says such trials provide reliable and robust evidence on the benefits, harms and costs of health care so that people can make informed choices.
'The People's Trial' into reading at bedtime is the first of its kind to involve members of the public. 
The HRB's Scientific Director, Professor Declan Devane, said there had been a huge international response to the call for participants.
He said the initiative showed the value of explaining health research methods. 
Professor Devane added that, because of the results, he intends to start reading before bed again.