An Irish technology company, which helps other companies to communicate with employees working remotely, is to more than treble its workforce with the creation of 100 new jobs.
Workvivo, based in Douglas in Co Cork, says the move is partly motivated by a demand from companies who have moved to remote-working or blended-working models in response to the coronavirus pandemic
In the past year, Workvivo says it has experienced 200% growth in user numbers, with 40% of its customer base only joining the platform since March. The company says it is now serving clients in almost 50 countries across the world.
Workvivo currently employs 35 people. It says it plans to increase its workforce to 135 over the next three years. The new jobs are being supported by Enterprise Ireland.
The Taoiseach, Micheál Martin, attended a function at the company's office in Cork this morning, where the announcement was made.
He said: Workvivo success is testament to the ability of indigenous Irish companies to Compete on the world stage.
Workvivo's platform helps businesses to connect with staff across multiple sites, and enables those businesses to engage and connect with their employees.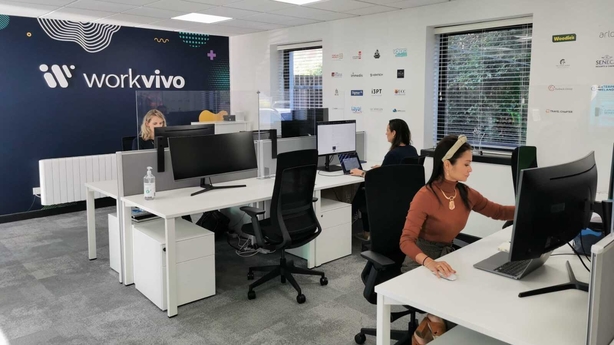 Workvivo's customers in Ireland include Woodies, Trigon Hotels, Bus Éireann, Irish Rail and UCC. Globally, it supplies companies including Telus International, Seneca Entertainment in New York, Netgear, A+E Networks, Kentech, Cubic Telecom and Staffordshire University.
Workvivo chief executive, John Goulding said: " In the new world of remote working it is more important than ever for companies to have the right communication technology for the workforce.
"Bringing the workplace culture to life and engaging the workplace now becomes something you need to be able to do digitally and this is exactly what Workvivo is excited about helping organisations with.''
We need your consent to load this rte-player contentWe use rte-player to manage extra content that can set cookies on your device and collect data about your activity. Please review their details and accept them to load the content.Manage Preferences
Manager of Enterprise Ireland's High Potential Start-Ups Division, Jennifer Melia said: "Over the past three years the team in Enterprise Ireland has worked closely with Workvivo, an innovative start-up whose ambition and enthusiasm has helped it to quickly evolve into a global business.
"This is a superb example of the growth possibilities for Irish entrepreneurs and the collaborative, creative approach adopted by the company has helped drive its success to date. Workvivo's platform and services are empowering workforces and organisations to be productive and engaged while at the same time helping them to remain social."
Co-founder of Workvivo, Joe Lennon added: 'This has been a transformative year in terms of defining the workplace of the future.
"We feel very privileged to be shaping this with some great customers and partners who have helped us along this journey. We are very excited about the opportunity and have our sights firmly fixed on our target of one million employees on our platform in 2021."