There will be no quarantine requirements for people travelling to Northern Ireland from low to medium risk countries, the Stormont Executive has agreed.
Ministers met to discuss further relaxation of coronavirus restrictions.
Among their discussions they agreed amendments to international travel regulations, which include no self-isolation requirement for those travelling to Northern Ireland from low to medium risk countries.
The list includes the Republic of Ireland, Italy, Spain, France and Germany.
The Executive has confirmed that, from tomorrow, indoor fitness studios and gyms can reopen along with cinemas, bingo halls, amusement arcades, and outdoor leisure playgrounds, courts and gyms.
Ministers also signed off on earlier commitments in relation to marriages, baptisms and civil partnerships.
Places of worship can resume indoor weddings and baptisms from tomorrow, while local government offices and other venues can resume marriage and civil partnership services.
It will be up to the venues involved to determine the number of people who should attend, taking account of public health advice, and if they want to provide post-ceremony celebrations.
Face coverings on public transport will be mandatory from tomorrow and the use of coverings is strongly recommended in indoor spaces.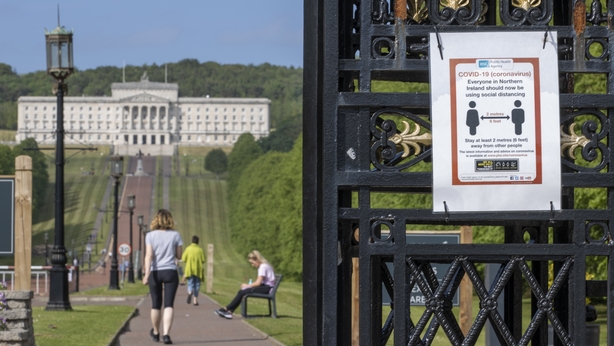 The Executive decided that outdoor competitive sporting events, including horse racing and equestrian competitions, can resume from Saturday with no spectators allowed and venues being compliant with hygiene and social distancing rules.
Ministers also agreed that libraries can reopen from next Thursday, 16 July, once measures are in place to ensure social distancing.
The date for the reopening of indoor sport and leisure facilities, including skating rinks and leisure centres, has been brought forward to tomorrow week, Friday 17 July.
This does not include swimming pools.
Earlier, it was announced that no new coronavirus-related deaths have been recorded in Northern Ireland for the sixth consecutive day and the death toll remains at 554.
There are three new cases of Covid-19, taking the total to 5,768.
For the 13th day in a row there are no patients with the virus being treated in intensive care in Northern Ireland.
The Department of Health also announced that the current estimate for the reproductive rate of the virus is 0.5-1.0.
Meanwhile, First Minister Arlene Foster has said Taoiseach Micheál Martin is to visit Stormont next Thursday.
He will meet Mrs Foster, as well as Deputy First Minister Michelle O'Neill and other party leaders.
NI gyms are first in UK to reopen
Better Leisure, which operates 15 municipal leisure facilities on behalf of Belfast City Council, will have a gradual reopening over the coming days.
This follows extensive preparation work to transform facilities to allow for social distancing.
There has been a reduction of and spacing out of equipment within gym areas, fitness classes have been relocated to sports halls or outdoor areas, one way systems put in place and there will be a reduction on the number of customers, who must pre-book their visit.
Better Leisure has also described an enhanced cleaning regime, sanitising equipment, limited changing room access and observing two metre social distancing.
Gyms at nine of the larger buildings, including Brook, Grove, Lisnasharragh, Olympia, Falls, Better Gym Belfast, Better Gym Connswater, Andersonstown and Shankill will open for limited sessions from tomorrow to test the safety measures.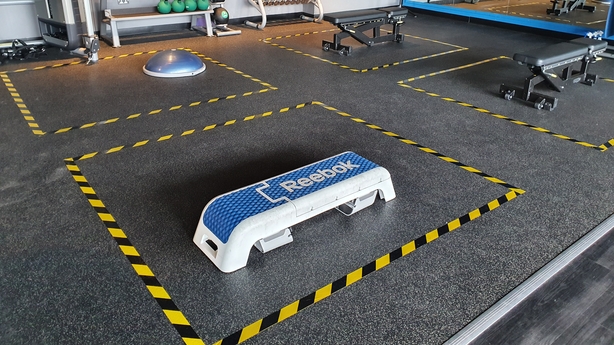 Gyms and classes at those centres will reopen fully from Tuesday, while other facilities including swimming pools will remain closed.
Gareth Kirk, GLL's Regional Director for Belfast, said the eyes of the gym industry in the UK will be on Northern Ireland.
"We have been working on this for the last six weeks with a July opening date in mind," he told the PA news agency.
"Staff are going through five days of preparation and training ready to open up fully next Tuesday.
"Northern Ireland is the first country across the four nations that is opening up gyms and leisure centres this week.
"So it is a big step, not just for the sector but also for the UK as a whole and I think eyes will be on Northern Ireland on Friday as we open up gyms for the first time."
He described the experience of visiting a leisure centre as having changed, with pre-booking via a smartphone app essential both in terms of capacity and to support track-and-trace efforts.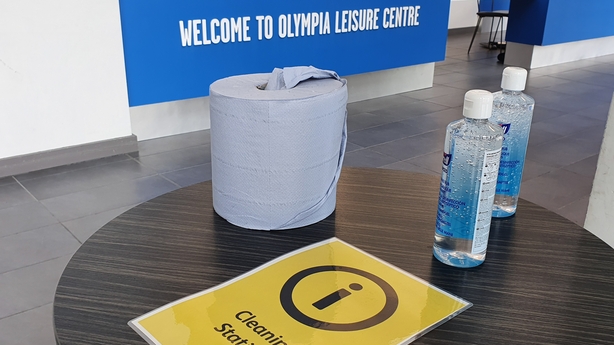 "We will make sure that everyone that comes in to use the facilities, we have their details so in the event there was an issue or outbreak down the line we know who was in on that date," he said.
"There has been a lot of thinking over the last six weeks on how we make this safe.
"The industry is really raring to go and get open but at the same time it is about making sure it is safe to do so.
"There has been a lot of work in the last week to get this up and running, and we're aware that some of our counterparts in Wales, Scotland and England are doing the same but they are in a position where they still don't have a date when they can open."
Mr Kirk added that he hopes there will be a decision over reopening swimming pools within the next week.
"We're suggesting lane swimming only in the early stages and we'll double the width of the lanes to create more space," he said.
"And we'll ask customers to turn up kit ready, so they'll have their kit on underneath their clothes and more than likely change at the poolside and only go through the changing rooms on their way out to encourage the one-way system.
"The advice we have had is that the swimming environment is relatively safe, the challenge is the changing room and touch points so that's where we will focus cleaning."
Additional reporting PA