Work is under way on a new water supply project that is aimed at ensuring reliable, clean water for more than 16,000 people in north Wexford.
The Gorey Regional Water Supply Project is due to take about 18 months to complete, at a cost of €17m.
The sod was turned on the scheme today by Minister for Housing, Planning and Local Government, Eoghan Murphy.
A new water treatment plant and reservoir are being built at Ballyminaun Hill outside Gorey, as well as the upgrading of an existing reservoir and associated infrastructure, which will serve the Gorey and Courtown areas.
Irish Water says the existing scheme is operating "at maximum capacity" and the planned project will increase capacity to the area to facilitate growth and development.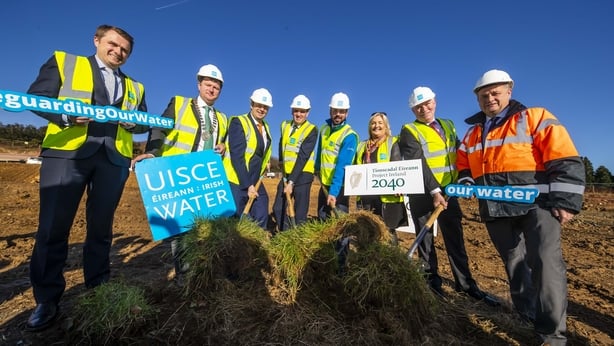 "This is a significant project for Gorey ... and emphasises Irish Water's commitment to providing safe, clean drinking water to the public" Mr Murphy said.
"This is also a hugely positive day in terms of creating the right infrastructure for future development in housing and the various services that are dependent on social and economic growth."
Irish Water's Head of Asset Operations Michael O'Leary said the Gorey and Courtown wastewater treatment plant was upgraded a few years ago at a cost of €7.2m, and the new water supply scheme is the next step towards boosting development in the area.
"Once complete, it will safeguard the drinking water supply to a population in excess of 16,000."
Wexford County Council Chief Executive Tom Enright said that Gorey is already a great place to live, work and holiday in and: "this upgrade will ensure the town has the security in terms of water supply that a modern Irish town needs in order to grow and prosper".
The works will be carried out by Glan Agua Limited on behalf of Irish Water.