Street Arts took centre stage in Galway last night with a spectacular procession of light, fire and performance through the city centre.
LUXE, the street theatre company were performing Imrah – Ship of Destiny to open the three-day event as part of preparations for Galway 2020.
The international seminar is bringing together professional artists and policymakers from across Europe to explore street arts as a tool for social, cultural, economic and political change.
Today on Inis Oírr (Inisheer), artists from Italy and Scotland will perform fresh pieces of work throughout the day having lived and immersed themselves on the island for the month of May.
Later this evening at 6pm, the Turas theatre collective will stage a performance on Inis Oírr titled Remnants.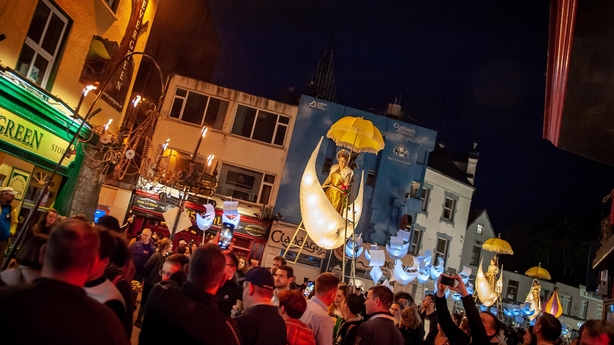 Tomorrow a high wire workshop across the Claddagh Basin will take place from 11:30am to 1 pm in preparation for Wires Crossed - a Galway 2020 project.
The theme is A Balancing Act for Europe, to highlight the importance of mental health in our communities.
The finale of the three-day event takes place at the Claddagh Basin when two dancers will perform above and below the surface of the water on a specially erected platform.
Next August, 400 people from ten partner countries will unite to cross the River Corrib and the Claddagh Basin on tightwires.
Fresh Street #3 is presented by Circostrada, Artcena, in partnership with Galway 2020 and the Irish Street Art and Spectacle Network (ISACS).