Fermoy in Co Cork has been named the cleanest town in Ireland, with Waterford city taking the honour as the country's cleanest city for 2018 in the IBAL Anti-Litter League.
Irish Business Against Litter said that just under 90% of towns were deemed clean last year, with Athlone and Killarney finishing behind Fermoy.
IBAL spokesperson Conor Horgan said that when the first surveys were carried out in 2002, most towns were considered littered.
Speaking on RTÉ's Morning Ireland, he said there has been a transformative change in many areas since, but there has only been minimal improvement in some city areas and disadvantaged urban areas were in the bottom five places.
Mr Horgan said that volunteer organisations play a big role in keeping towns clean, but in some areas there are no such groups.
"We'd like to see local authorities doing more, we don't get the impression that they are prioritising these areas, and part of that would be reaching out and trying to form groups that can help them keep the environment clean."
IBAL said that while Galway city registered its best result in years, almost half of city areas were littered, including Ballybane in Galway, Dublin's north inner city and parts of Cork city's northside.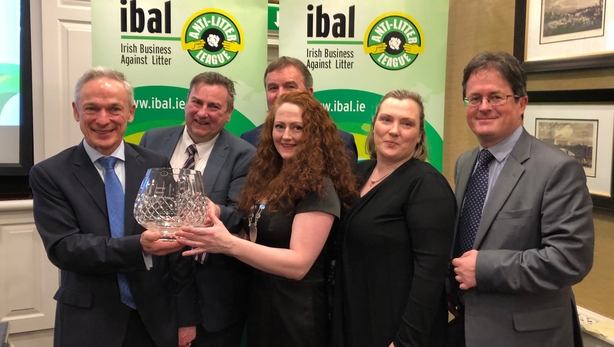 2018 Anti-Litter League
Cleaner than European Norms
1 Fermoy
2 Athlone
3 Killarney
4 Naas
5 Navan
6 Sligo
7 Drogheda
8 Waterford City Centre
9 Kilkenny
9 Dundalk
11 Longford
12 Castlebar
13 Tallaght