Drogheda in Co Louth retained its place as Ireland's largest town in the latest breakdown of the 2016 census published today with almost 41,000 inhabitants.
Drogheda was followed by Swords in Co Dublin and Dundalk, Co Louth in the top three.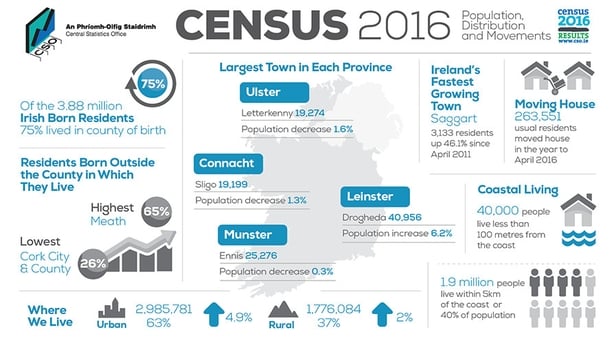 Saggart in Co Dublin was Ireland's fastest growing town, with a population rise of 46% since 2011 bringing it up to 3,133.
The census confirmed the dominance of Dublin city and county in the nation's demographics with 44% of the state's total urban population now living in Dublin and 37.3% of the remaining population living in rural areas.
The largest rural population increase was in Cork with an additional 7,000 people.
The census confirmed that over a quarter of a million people moved home around the country in the year up to 2016 with counties Kildare, Meath and Wicklow topping the league of chosen destinations for commuters.
Galway city's population increased by 4.1%.
https://t.co/ImVRaOMkdx pic.twitter.com/eNdyTu2rnX

— CSO Statistics (@CSOIreland) May 11, 2017
65.1% of Meath's population were born outside the county, the highest proportion in the country.
Cork city and county, at 25.5%, had the lowest proportion of residents born outside the county, while just 13% of those born in Donegal were usually resident in another county.